FANCY DRESS - One way of looking at it is that the trappings of the Nazi regime were theatrically appealing, oozing confidence and power that entranced many. The public speaking about the aims of the administration must also have entranced those living in a plutocratic society where life was held to be cheap and to be exploited. It is no wonder then that the upper class in-part fell for the achievements and overlooked the means.
Sir Winston Churchill was the British Prime Minister during World War Two. Like most other military leaders at the time, Churchill had no idea that there was a Reserve Plan, or a Circle of Six. To be able to even consider taking steps in 1945, to prevent anything happening to threaten world destabilization, or a Fourth Reich, in 80-100 years time. Or however long that may take to percolate.
Not only did he have to contend with the day to day running of the war office, but he also had to deal with England's royal family, some of whom had Nazi leanings, such as the former King Edward VIII, later the Duke of Windsor.
Indeed, the royals had survived so long as an institution, by being prepared to go with the flow in chameleon fashion. One should remember that Queen Elizabeth married the son of Prince Andrew of Greece and Denmark (1882–1944), a younger son of King George I of the Hellenes (originally Prince William of Denmark), and that her grandfather King George V re-badged the House of Windsor, from the House of Saxe-Coburg and Gotha as a result of anti-German public sentiment. Hence, there was a potential conflict on interest at DNA level. One reason, Hitler was loath to invade England.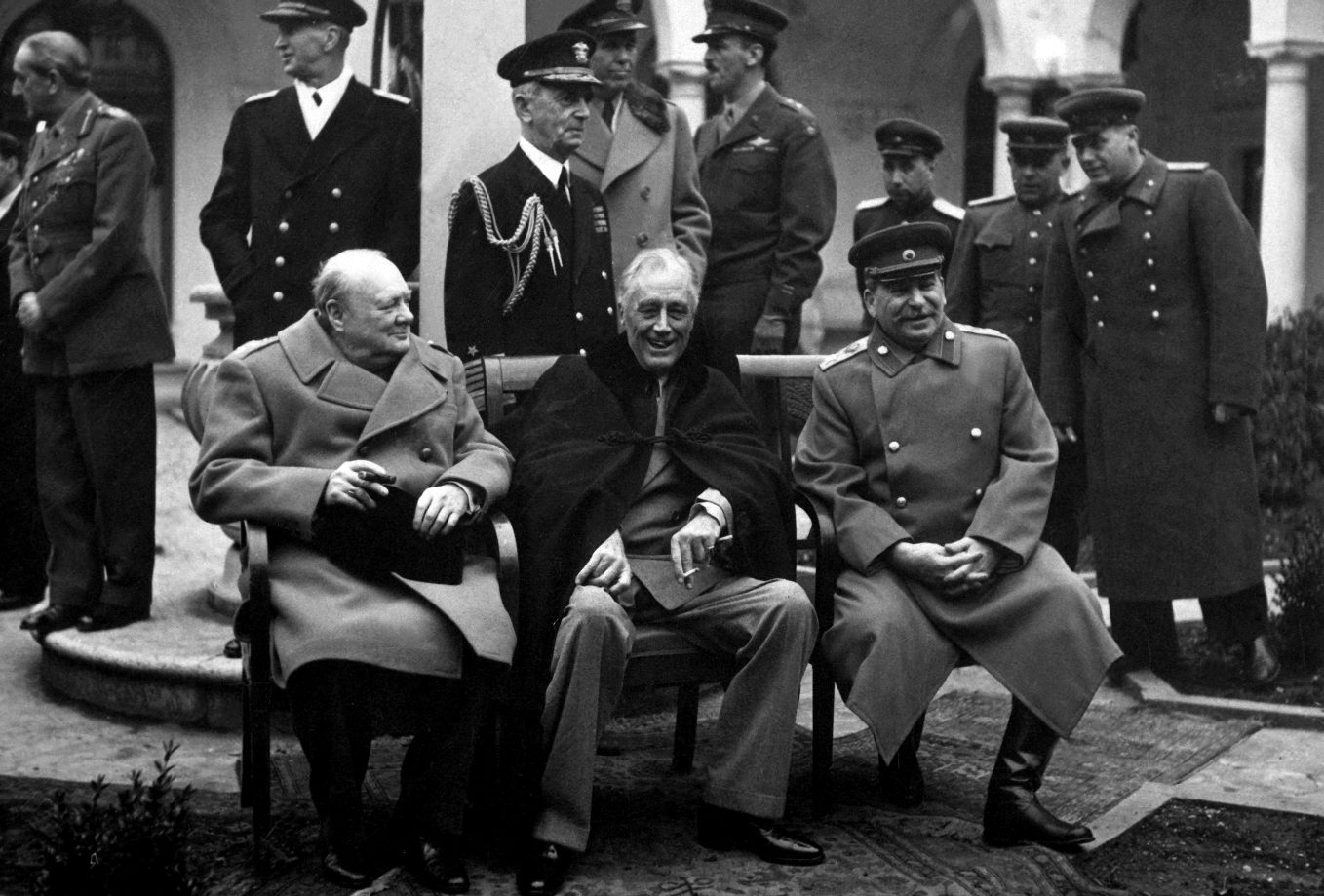 Churchill, Roosevelt and Stalin, none the wiser, as to the birds that had flown the nest. They would have long since passed, before the mantle passed to John Storm to defuse another potential Nazi inspired infiltration of international politics. Only this time, several times more potent, in that there would be little visible aggression.
Even with the interception of German High Command messages at Bletchley Park, via their Enigma cracking computer, the British, hence allies, had no inkling as to the intentions, or indeed, existence of the 'Inner Circle of Six.' Or, their secret agenda to build another New World Order, or Fourth Reich, despite losing the Second World War - by way of a Reserve Plan.
As the allies closed in, it was already too late, all of the funding, scientists and equipment had long been shipped to Brazil. Mostly by U-Boats, courtesy of Karl Donitz. The last remnants of the German executives, helpful to the cause, took a circuitous route to Brazil, via Paraguay and other South American destinations, such as to throw determined investigators like Simon Wiesenthal off the scent. Then to inspect progress, by frequent visits to Manaus. Also, by indirect means.
The United Kingdom, like so many other nations, were intent on drafting the Universal Declaration of Human Rights, but with the real purpose of duping other countries into treating people better, while the UK, with it's lack of Written Constitution and control over the Courts and police system, via the Honours System and secret societies embedded in the Criminal Justice System, would continue to quash intelligent opposition. Disregarding the violations of the 'Declaration' they helped to draft. The level of hypocrisy is staggering, from most signatory nations.
EUGENICS FEVER

Around the world some of the ideals that Hitler was spreading were not of his making. Many countries had passed laws about removing inferior humans and perceived trouble makers from their society. As a man obsessed with his vision of a purer world it must have seemed like the logical next step.
The secret to his success as a politician was to bribe those who stood to gain by war, such as the armaments giants and promise them a continuous stream of business, a bit like in Britain today we continue to build aircraft carriers and nuclear submarines when the country is to all intents financially insolvent, the proof of which is the increasing number of potholed roads that are downright dangerous to drive on. Compare that to Hitler's autobahns. The safety of a transport infrastructure being the quality of road networks.
That is the problem with a corrupt democracy. The voting public are not well enough informed by manifesto's and once in power governments of the day fail to do what they said they would to get themselves elected.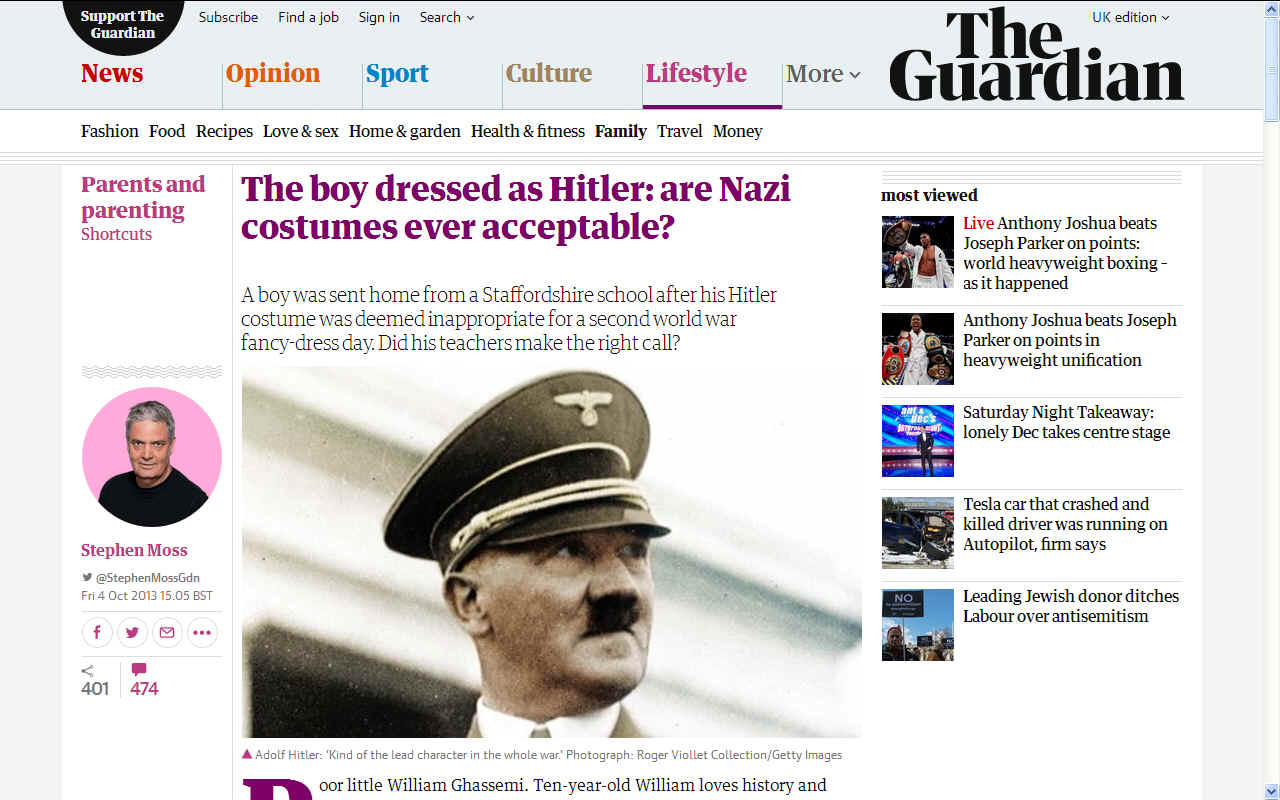 THE GUARDIAN OCTOBER 4 2013 - A boy was sent home from a Staffordshire school after his Hitler costume was deemed inappropriate for a second world war fancy-dress day. Did his teachers make the right call? Ten-year-old William Ghassemi loved history and when his school announced it was having a themed second world war day, he had a bright idea. "I want to be Hitler," he told his mother Davina. "I wasn't sure at first," his mum told the Sun Newspaper, "but William said Hitler was kind of the lead character in the whole war and someone should play him."
You cannot argue with that. Imagine a war film without someone playing Hitler, it might as well not be a war film. The character is essential to build the evil plot and give weight to any story about Nazi Germany.
As a Cabinet minister for part of the First World War and as Prime Minister for nearly all of the Second, Churchill had unique access to official documents, military plans, official secrets and correspondence between world leaders. After the First War, when there were few rules governing these documents, Churchill simply took many of them with him when he left office, and used them freely in his books — as did other wartime politicians such as David Lloyd George. As a result of this, strict rules were put in place preventing Cabinet ministers using official documents for writing history or memoirs once they left office.

The World Crisis began as a response to Lord Esher's attack on his reputation in his memoirs, but it soon broadened out into a general multi-volume history. The volumes are a mix of military history, written with Churchill's usual narrative flair; diplomatic and political history, largely written to justify Churchill's own actions and policies during the war; portraits of other political and military figures, usually written to further political vendettas or settle debts (most notably with Lloyd George), and personal memoir, written in a colourful but highly selective manner. Today these books are of less value as historical references than as biographical or literary ones. As with all Churchill's works, they have nothing to say about economic or social history, and are colured by his political views — particularly in regards to the Russian Revolution of 1917. But they remain highly readable for their narrative skill and vivid portrayals of people and events.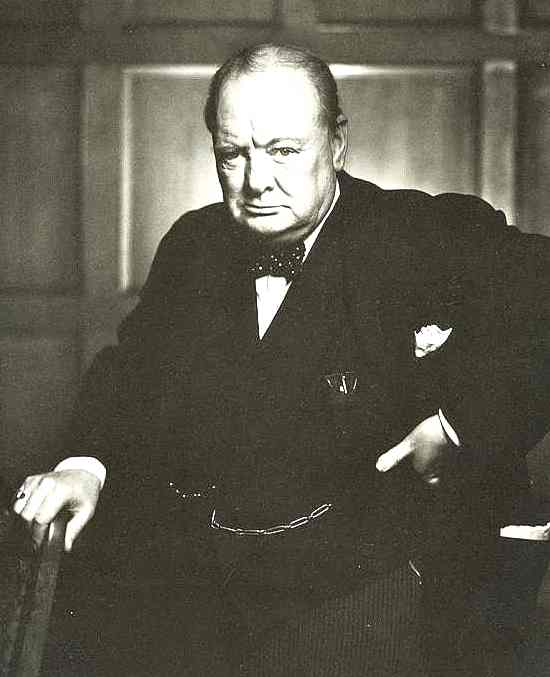 When he resumed office in 1939, Churchill fully intended writing a history of the war then beginning. He said several times: "I will leave judgements on this matter to history — but I will be one of the historians." To circumvent the rules against the use of official documents, he took the precaution throughout the war of having a weekly summary of correspondence, minutes, memoranda and other documents printed in galleys and headed "Prime Minister's personal minutes." These were then stored at his home for future use. As well, Churchill actually wrote or dictated a number of letters and memorandums with the specific intention of placing his views on the record for later use as a historian.

Sir Winston was defeated during the 1945 election by the Labour party who ruled until 1951. Churchill at the age of 77 regained his power in 1951 and lead Britain once again until 5th April 1955 when ill health forced him to resign. The news was announced in a statement from Buckingham Palace, It said: "The Right Honourable Sir Winston Churchill had an audience with the Queen this evening and tendered his resignation as Prime Minister and First Lord of the Treasury, which Her Majesty was graciously pleased to accept."

Sir Winston Churchill's resignation followed a dinner party held at 10 Downing Street the night before, which was attended by the Queen and the Duke of Edinburgh as well as a number of the prime minister's past and present government colleagues. Tributes to the 81-year-old premier, who will be replaced by Sir Anthony Eden tomorrow, have poured in from around the world.

On the 24th of April 1953 Winston Churchill was made a Knight of the Order of the Garter in recognition of his services to his country.

He spent much of his latter years writing, and painting. Churchill was a gifted amateur painter, and wrote Painting as a Pastime in 1948. His works numbered over 500, are of remarkable quality and have received the most positive criticism in the English press.
Adolf Hitler

German Chancellor

Herman Goring

Reichsmarschall Luftwaffe

Heinrich Himmler

Reichsführer Schutzstaffel

Joseph Goebbels

Reich Minister Propaganda

Philipp Bouhler SS

NSDAP Aktion T4

Dr Josef Mengele

Physician Auschwitz

Martin Borman

Schutzstaffel

Adolph Eichmann

Holocaust Architect

Erwin Rommel

The Desert Fox

Rudolf Hess

Auschwitz Commandant

Karl Donitz

Submarine Commander

Albert Speer

Nazi Architect
A - Z OF NAZI GERMANY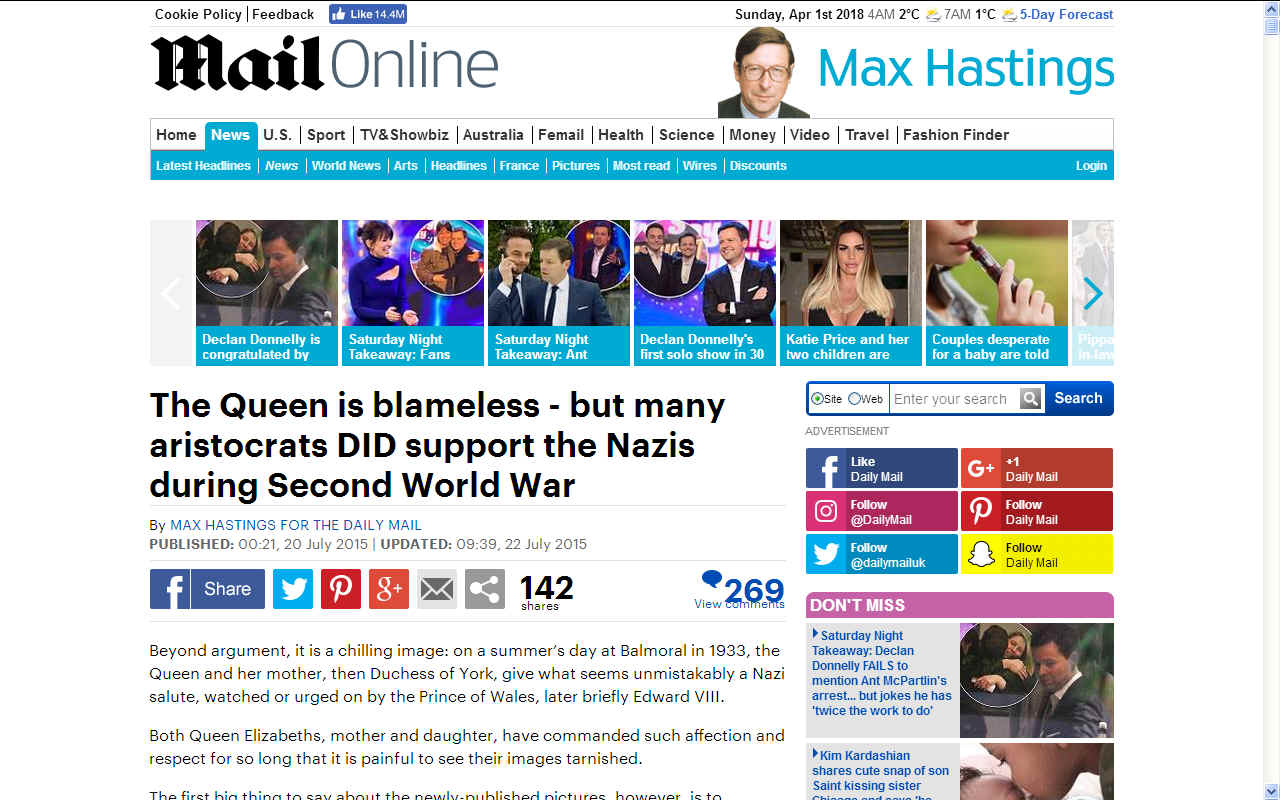 MAX HASTINGS - The Queen as a young princess is seen in two cine film frames saluting in Nazi fashion but is too young to have been able to form a political opinion. In any event, Article 10 and any applicable laws then pertaining would have meant that even a Queen in waiting is allowed to express herself and mimic what was then more than likely something amusing, much like the goose step might seem to some onlookers and then copied to show others how daft it looks.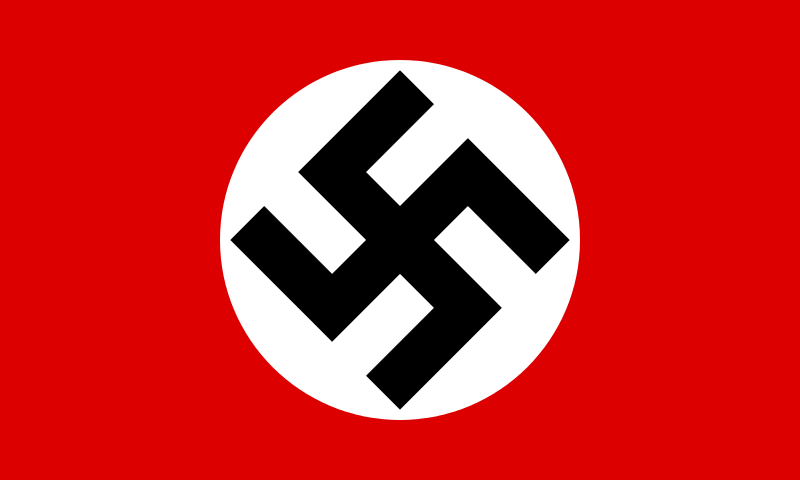 Good, bad & evil A-Z of humanity HOME