In this scene the military are unable to comprehend the cloning or replication technology for their weapons programmes. Fearing others might be able to figure it out ahead of them, they take the drastic step of planning to cryogenically freeze Cleopatra and Alexis Luther; the Panamanian running man.
John warns the US military not to try again, or the target might be NORAD. This goes against the grain for John, where he is an advocate of peace. But, they are trying to kill him and everyone onboard the Elizabeth Swann, and the North American Aerospace Defense Command was confirmed as coordinating the attack. Two Raptor drones sent out to attack again, were rapidly recalled. Hal thanked US Defense Command for complying. They do not respond. But in NORAD's offices in Florida, the top brass were forced to inform President Lincoln Truman, that their security network is breached, as the media reported the story. The President is furious that an attack on a civilian ship was not correctly authorized. (Plausible denial) He personally hails the Elizabeth Swann by video link, explaining the breach in protocol, when he and John agree, to cooperate, as far as is possible. President Truman calls off the dogs, he is shocked to learn Guantánamo Bay is still operational, having been assured it was empty. Détente.
Even so, John refuses to allow the US military access to the CyberCore nano-computer, despite being offered $Billions of dollars. Secretly, President Truman is pleased at making his new civilian ally. He orders an investigation, to root out those responsible for the attack and using the old camp in Cuba illegally.
GRAPHIC BRIEF - SUGGESTED LAYOUTS/ FORMAT = THREE ISSUES
PART I - ISSUE 1.
CHAPTER 1. THE POISON ASP - Overwhelmed by grief, Cleopatra poisons herself with a cobra bite in her mausoleum
CHAPTER 2. WRATH OF THE GODS - The destruction of Thonis and Alexandria
CHAPTER 3. NEW WORLD ORDER - A Neo-Nazi plan to regenerate Aryan supremacy
CHAPTER 4. CYBERCORE GENETICA - Nano computer technology is purchased at an auction by a religious sect
CHAPTER 5. INCUBUS - Franco Francisco accepts offer of employment from Roberta Ferrara
CHAPTER 6. SPLICE - Klaus von Kolreuter perfects a method of gene manipulation
CHAPTER 7. TREMORS - Cleopatra's tomb lay lost for centuries, until shift in the tectonic plates trigger tremor off the coast of Alexandria
PART II - ISSUE 2.
CHAPTER 8. PANAMANIAN RUNNING MAN - Marjorie Boyle videos exceptionally fast athlete, Sam Hollis investigates
CHAPTER 9. AMAZON QUEEN - Elizabeth Swann navigating river and docking at Manaus
CHAPTER 10. TOMB RAIDERS - Safiya Sabuka and Musa Bomani dive among sifting sands to discover precious artifacts and golden treasures
CHAPTER 11. SCOTLAND YARD - London's secure DNA database is stolen
CHAPTER 12. OPERATION ALEXANDRIA - Neo-Nazi occultists recover Cleopatra's sarcophagus from underwater tomb near Palace
CHAPTER 13. KIDNAPPED - Charley is taken prisoner, John, Dan and CIA rescue her
CHAPTER 14. UNESCO - Catholic Church fear grave desecration heritage theft, asks agencies for help. Interpol issue Red Notice
PART III - ISSUE 3.
CHAPTER 15. REPLICANT - The Society reproduce Cleopatra using Francisco's RepliVator™, uploading synapse sequence, implanted memories
CHAPTER 16. FULL STEAM AHEAD - To Thonis, then uses the Swann's AI sensors and the Ark database to find tomb has been plundered
CHAPTER 17. RITUAL SACRIFICE - The Baron prepares a drugged Cleopatra for ceremonial impregnation
CHAPTER 18. SANCTUM INTERRUPTUS - John finds Nazi hideout near Alexandria, disturbs ritual - rescues Cleopatra, arresting conspirators
CHAPTER 19. THE CHOSEN ONE - The reincarnated Cleopatra falls for her rescuer. John comes under her spell, despite her being a replicant
CHAPTER 20. MILITARY INTERVENTION - Military detain Cleopatra for stakeholders, despite media & medical protests. Storm distraught
CHAPTER 21. DÉJÀ VU - History repeats itself, military lock up technology as gross violation of human rights, John left disillusioned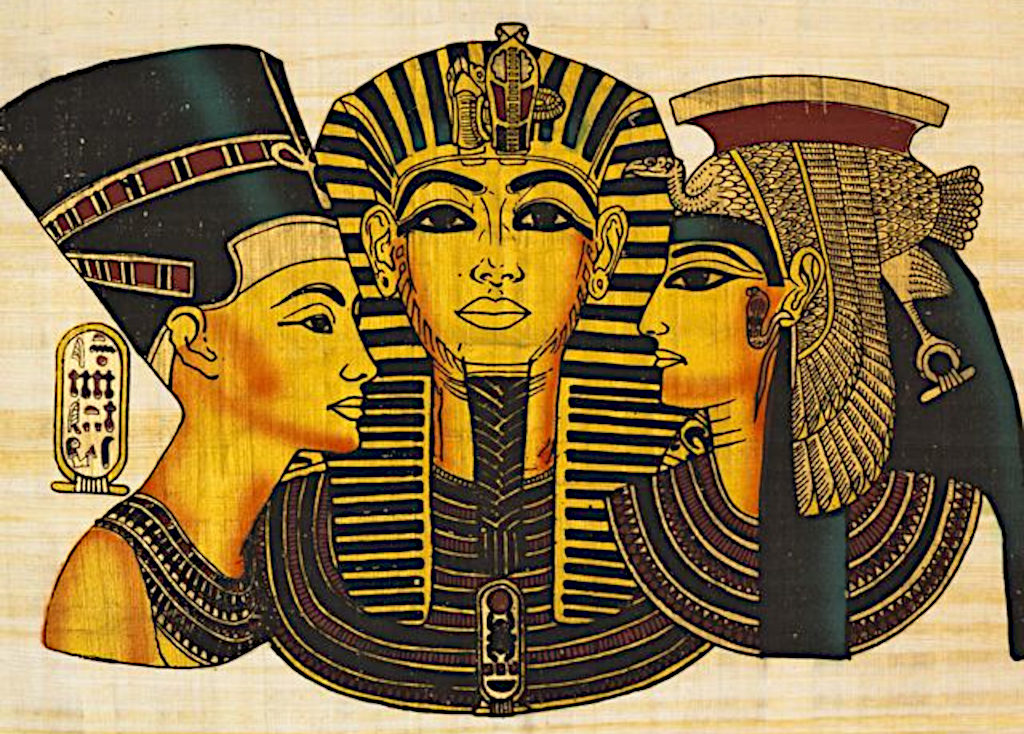 BOOK CHAPTERS
CHAPTER 1. THE POISON ASP - Overwhelmed by grief, Cleopatra poisons herself with a cobra bite in her mausoleum
CHAPTER 2. WRATH OF THE GODS - The destruction of Thonis and Alexandria
CHAPTER 3. NEW WORLD ORDER - A Neo-Nazi plan to regenerate Aryan supremacy
CHAPTER 4. CYBERCORE GENETICA - Nano computer technology is purchased at an auction by a religious sect
CHAPTER 5. INCUBUS - Franco Francisco accepts offer of employment from Roberta Ferrara
CHAPTER 6. SPLICE - Klaus von Kolreuter perfects a method of gene manipulation
CHAPTER 7. TREMORS - Cleopatra's tomb lay lost for centuries, until shift in the tectonic plates trigger tremor off the coast of Alexandria
CHAPTER 8. PANAMANIAN RUNNING MAN - Marjorie Boyle videos exceptionally fast athlete, Sam Hollis investigates
CHAPTER 9. AMAZON QUEEN - Elizabeth Swann navigating river and docking at Manaus
CHAPTER 10. TOMB RAIDERS - Safiya Sabuka and Musa Bomani dive among sifting sands to discover precious artifacts and golden treasures
CHAPTER 11. SCOTLAND YARD - London's secure DNA database is stolen
CHAPTER 12. OPERATION ALEXANDRIA - Neo-Nazi occultists recover Cleopatra's sarcophagus from underwater tomb near Palace
CHAPTER 13. KIDNAP - Charley is taken prisoner, John, Dan and CIA rescue her
CHAPTER 14. UNESCO - Catholic Church fear grave desecration heritage theft, asks agencies for help. Interpol issue Red Notice
CHAPTER 15. REPLICANT - The Society reproduce Cleopatra using Francisco's RepliVator™, uploading synapse sequence, implanted memories
CHAPTER 16. FULL STEAM AHEAD - To Thonis, then uses the Swann's AI sensors and the Ark database to find tomb has been plundered
CHAPTER 17. RITUAL SACRIFICE - The Baron prepares a drugged Cleopatra for ceremonial impregnation
CHAPTER 18. SANCTUM INTERRUPTUS - John finds Nazi hideout near Alexandria, disturbs ritual - rescues Cleopatra, arresting conspirators
CHAPTER 19. THE CHOSEN ONE - The reincarnated Cleopatra falls for her rescuer. John comes under her spell, despite her being a replicant
CHAPTER 20. MILITARY INTERVENTION - Military detain Cleopatra for stakeholders, despite media & medical protests. Storm distraught
CHAPTER 21. DÉJÀ VU - History repeats itself, military lock up technology as gross violation of human rights, John left disillusioned