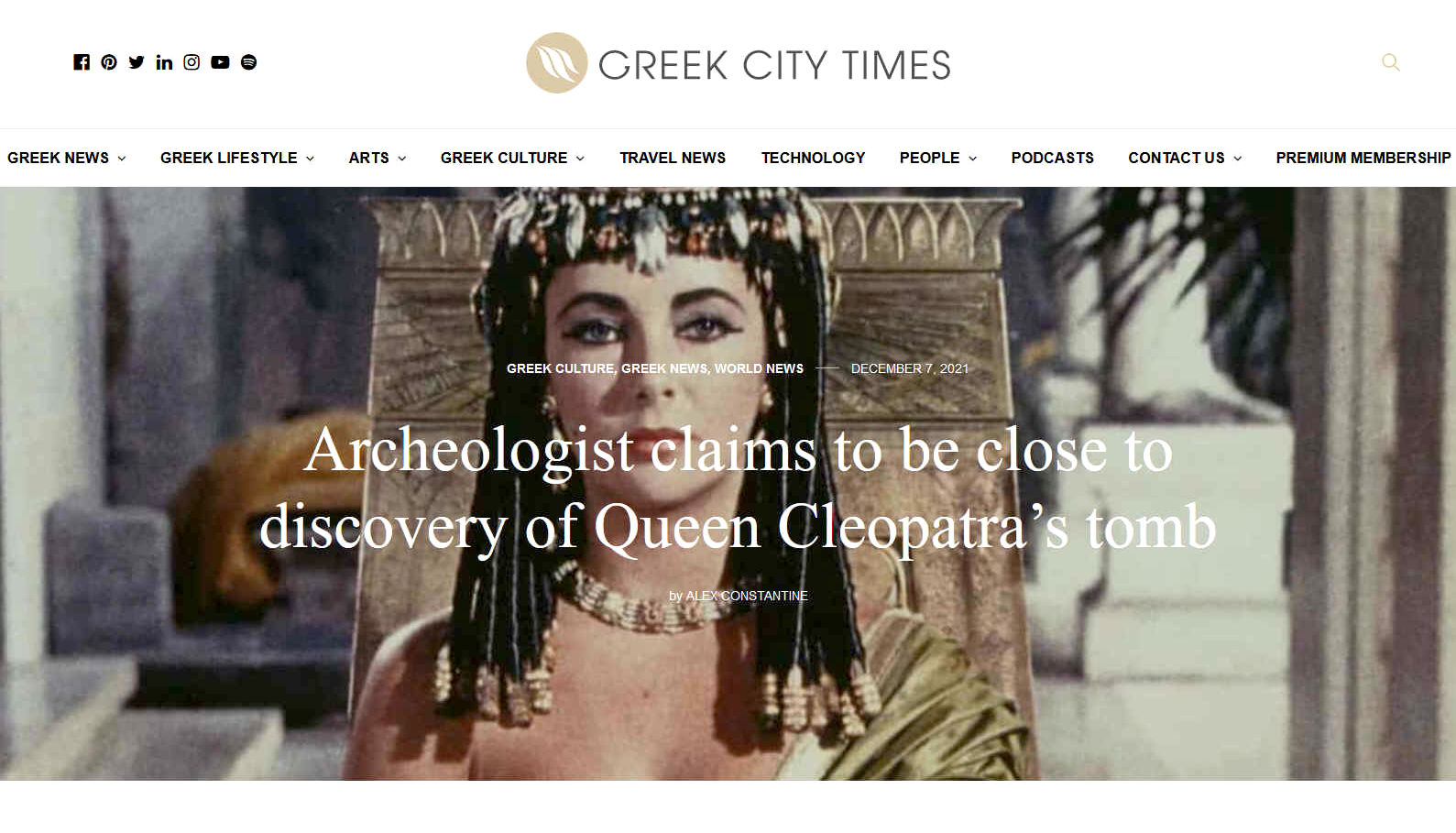 In our story the Baron Heinrich Richtohofen, John Storm and Hal, the AI onboard the Elizabeth Swann, all agree that Cleopatra is entombed underwater in her former Palace at Alexandria, or at a special mausoleum at Thonis-Heracleion. It seems we are not alone in this belief. For sure, the work at Taposiris Magna is helping to build a picture of life under Cleopatra, when hundreds of coins with her image and other artifacts, confirm her as a revered ruler of her time. We hope the scientific community will not mind us bending history a little, in the interests of promoting archaeology and marine biology as essential sciences - generating a reliable data base - of the natural world and man's ascendancy.
GREEK CITY TIMES 7 DECEMBER 2021 - ARCHAEOLOGIST SAYS CLOSE TO DISCOVERING CLEO'S TOMB

A former criminal lawyer turned archeologist claimed that her quest to find Queen Cleopatra's tomb is much closer following a number of major breakthroughs.

Speaking to The National, Kathleen Martinez says her quest could be nearing its end, after having spent the past 15 years searching for the tomb of Cleopatra, the last monarch of the Macedonian Ptolemaic dynasty — founded by Alexander the Great around 300 BC — who took her own life after the Romans captured Egypt in 30 BC.

"If the world was crazy about King Tut, it will be way crazier about Cleopatra's tomb if found. Besides the scientific value of finding it, can you imagine what it will do to tourism in Egypt?" said Martinez.

"Cleopatra was the final chapter of ancient Egypt, while King Tut was just a boy king who did little for Egypt but attracted much attention essentially because his tomb was found intact."

Her search has focused on Taposiris Magna, a sprawling temple of about seven square kilometres located some 50km west of the Mediterranean city of Alexandria that is dedicated to the ancient Egyptian goddess Isis.

"The pharaohs speak to us through their tombs and there are about 60 of them in the Valley of the Kings alone," she said, referring to the site in southern Egypt where the tombs of many pharaohs, including King Tut, are located.

"So, if we can discover the tomb of Cleopatra or any one of her Ptolemaic predecessors, Taposiris Magna could be the Greek version of the Valley of the Kings."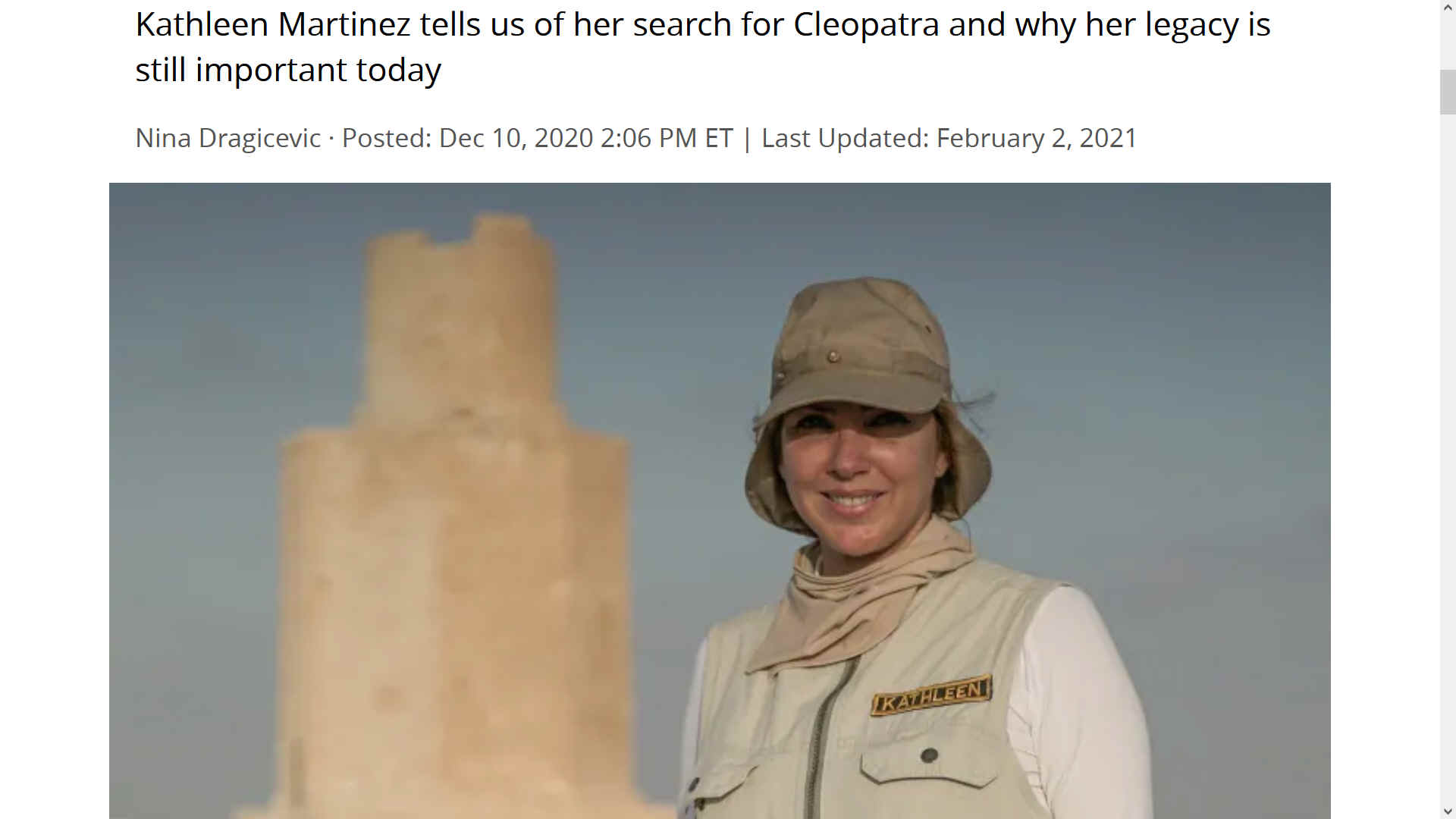 ABOUT CLEOPATRA

Cleopatra VII Philopator (Greek: Κλεοπάτρα Φιλοπάτωρ; 69 BC – 10 August 30 BC), often referred to simply as Cleopatra, was Queen of the Ptolemaic Kingdom of Egypt, and its last active ruler.

A member of the Ptolemaic dynasty, she was a descendant of its founder Ptolemy I Soter, a Macedonian Greek general and companion of Alexander the Great. After the death of Cleopatra, Egypt became a province of the Roman Empire, marking the end of the second to last Hellenistic state and the age that had lasted since the reign of Alexander (336–323 BC). Her native language was Koine Greek, and she was the only Ptolemaic ruler to learn the Egyptian language.

In 58 BC, Cleopatra presumably accompanied her father, Ptolemy XII Auletes, during his exile to Rome after a revolt in Egypt (a Roman client state) allowing his daughter Berenice IV to claim the throne. Berenice was killed in 55 BC when Ptolemy returned to Egypt with Roman military assistance. When he died in 51 BC, the joint reign of Cleopatra and her brother Ptolemy XIII began, but a falling-out between them led to open civil war.
After losing the 48 BC Battle of Pharsalus in Greece against his rival Julius Caesar (a Roman dictator and consul) in Caesar's Civil War, the Roman statesman Pompey fled to Egypt. Pompey had been a political ally of Ptolemy XII, but Ptolemy XIII, at the urging of his court eunuchs, had Pompey ambushed and killed before Caesar arrived and occupied Alexandria. Caesar then attempted to reconcile the rival Ptolemaic siblings, but Ptolemy's chief adviser, Potheinos, viewed Caesar's terms as favouring Cleopatra, so his forces besieged her and Caesar at the palace.
Shortly after the siege was lifted by reinforcements, Ptolemy XIII died in the 47 BC Battle of the Nile; Cleopatra's half-sister Arsinoe IV was eventually exiled to Ephesus for her role in carrying out the siege. Caesar declared Cleopatra and her brother Ptolemy XIV joint rulers but maintained a private affair with Cleopatra that produced a son, Caesarion. Cleopatra travelled to Rome as a client queen in 46 and 44 BC, where she stayed at Caesar's villa. After the assassinations of Caesar and (on her orders) Ptolemy XIV in 44 BC, she named Caesarion co-ruler Ptolemy XV.

In the Liberators' civil war of 43–42 BC, Cleopatra sided with the Roman Second Triumvirate formed by Caesar's grandnephew and heir Octavian, Mark Antony, and Marcus Aemilius Lepidus. After their meeting at Tarsos in 41 BC, the queen had an affair with Antony. He carried out the execution of Arsinoe at her request and became increasingly reliant on Cleopatra for both funding and military aid during his invasions of the Parthian Empire and the Kingdom of Armenia. The Donations of Alexandria declared their children Alexander Helios, Cleopatra Selene II, and Ptolemy Philadelphus rulers over various erstwhile territories under Antony's triumviral authority.

This event, their marriage, and Antony's divorce of Octavian's sister Octavia Minor led to the Final War of the Roman Republic. Octavian engaged in a war of propaganda, forced Antony's allies in the Roman Senate to flee Rome in 32 BC, and declared war on Cleopatra. After defeating Antony and Cleopatra's naval fleet at the 31 BC Battle of Actium, Octavian's forces invaded Egypt in 30 BC and defeated Antony, leading to Antony's suicide. When Cleopatra learned that Octavian planned to bring her to his Roman triumphal procession, she killed herself by poisoning, contrary to the popular belief that she was bitten by an asp.

Cleopatra's legacy survives in ancient and modern works of art. Roman historiography and Latin poetry produced a generally critical view of the queen that pervaded later Medieval and Renaissance literature. In the visual arts, her ancient depictions include Roman busts, paintings, and sculptures, cameo carvings and glass, Ptolemaic and Roman coinage, and reliefs. In Renaissance and Baroque art, she was the subject of many works including operas, paintings, poetry, sculptures, and theatrical dramas. She has become a pop culture icon of Egyptomania since the Victorian era, and in modern times, Cleopatra has appeared in the applied and fine arts, burlesque satire, Hollywood films, and brand images for commercial products.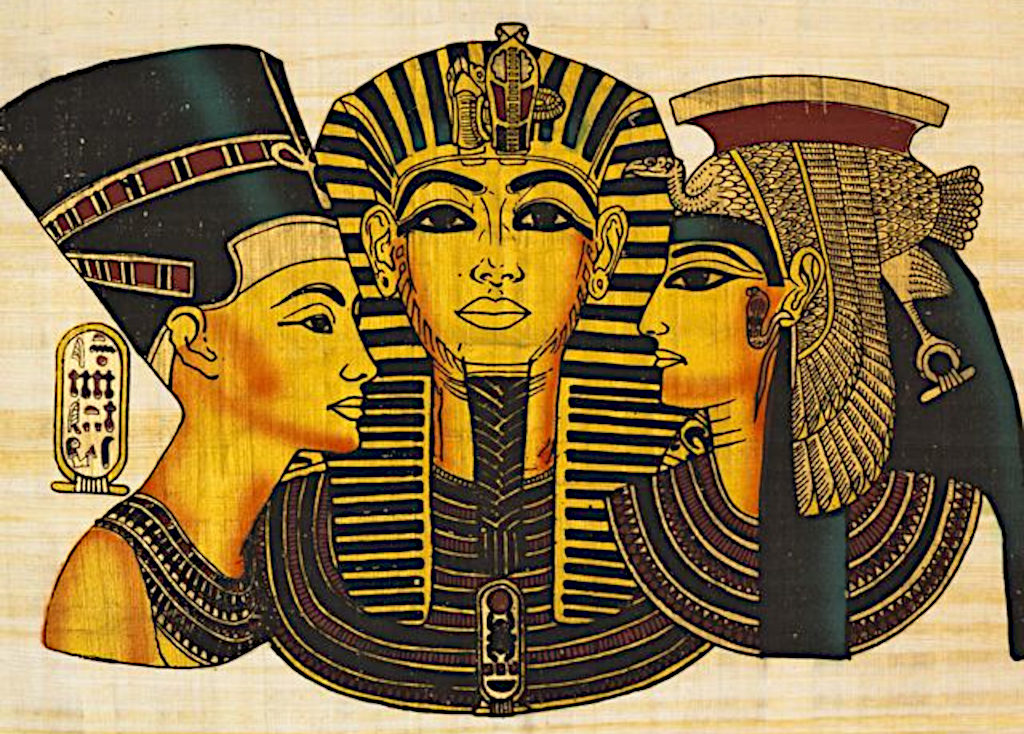 BBC NEWS - NETFLIX CLEOPATRA DOCUDRAMA 10 MAY 2023
BRISBANE TIMES - RADAR REVEALS POSSIBLE LOCATION CLEOPATRA'S TOMB 2009
BRITISH MUSEUM - CLEOPATRA, 17 YEAR OLD DAUGHTER OF CANDACE, THEBES
CBC - CLEOPATRA OUTSMARTED EVERYONE, FEBRUARY 2021
CBS - WHY SOME EGYPTIANS ARE FUMING OVER NETFLIX'S BLACK CLEOPATRA
DAILY MAIL - ADELE JAMES BREAK SILENCE AS TO BLACKWASHING CLAIMS MAY 2023
DISCOVERY MAGAZINE - JUNE 7 2023, WILL WE EVER FIND THE TOMB OF CLEOPATRA?
GREEK CITY TIMES - ARCHAEOLOGIST CLAIMS TO BE CLOSE TO DISCOVERY OF CLEOPATRA 2021
LIVESCIENCE - WHERE IS CLEOPATRA'S TOMB/PALACE JULY 2020
ROTTEN TOMATOES - CLEOPATRA CRITICS, SERIES 1 REVIEWS MAY 2023
SKY HISTORY - THE HIDDEN TOMB OF CLEOPATRA MARCH 2023
SKYE NEVILLE - PLASTIC FREE COMICS, WAITROSE BANS
SPECTATOR - THE TROUBLE WITH NETFLIX'S QUEEN CLEOPATRA 29 MAY 2023
THE CONVERSATION - WHY THE DISCOVERY OF CLEOPATRA'S TOMB COULD REWRITE HISTORY 2022
THE GUARDIAN - NETFLIX, NO NEED FOR WHITE ACTOR 10 MAY 2023
THE SUN - QUEEN CLEOPATRA'S TOMB, TAPOSIRIS MAGNA 2020
THE SUN - THE REICH STUFF: GLOBAL HUNT FOR HITLER'S LOST £20 BILLION NAZI GOLD HORDE APRIL 2021
UNDERWATER PHOTOGRAPHY GUIDE - CLEOPATRA'S SUNKEN PALACE
USA TODAY - MUSTAFA WAZIRI, ALEXANDRIA, EGYPTIAN ARCHAEOLOGISTS 2018
YOUTUBERS - MAKEUP, CLEOPATRA'S FACE & EYE COSMETICS, MUMMY MASK
YOUTUBERS - NETFLIX VIDEO COMMENTS MAY 2023
ZAHI HAWASS - DOCUMENTARY: CLEOPATRA VII PHILOPATOR

https://greekcitytimes.com/2021/12/07/archeologist-claims-to-be-close-to-discovery-of-queen-cleopatras-tomb/
https://greekcitytimes.com/2021/12/07/archeologist-claims-to-be-close-to-discovery-of-queen-cleopatras-tomb/