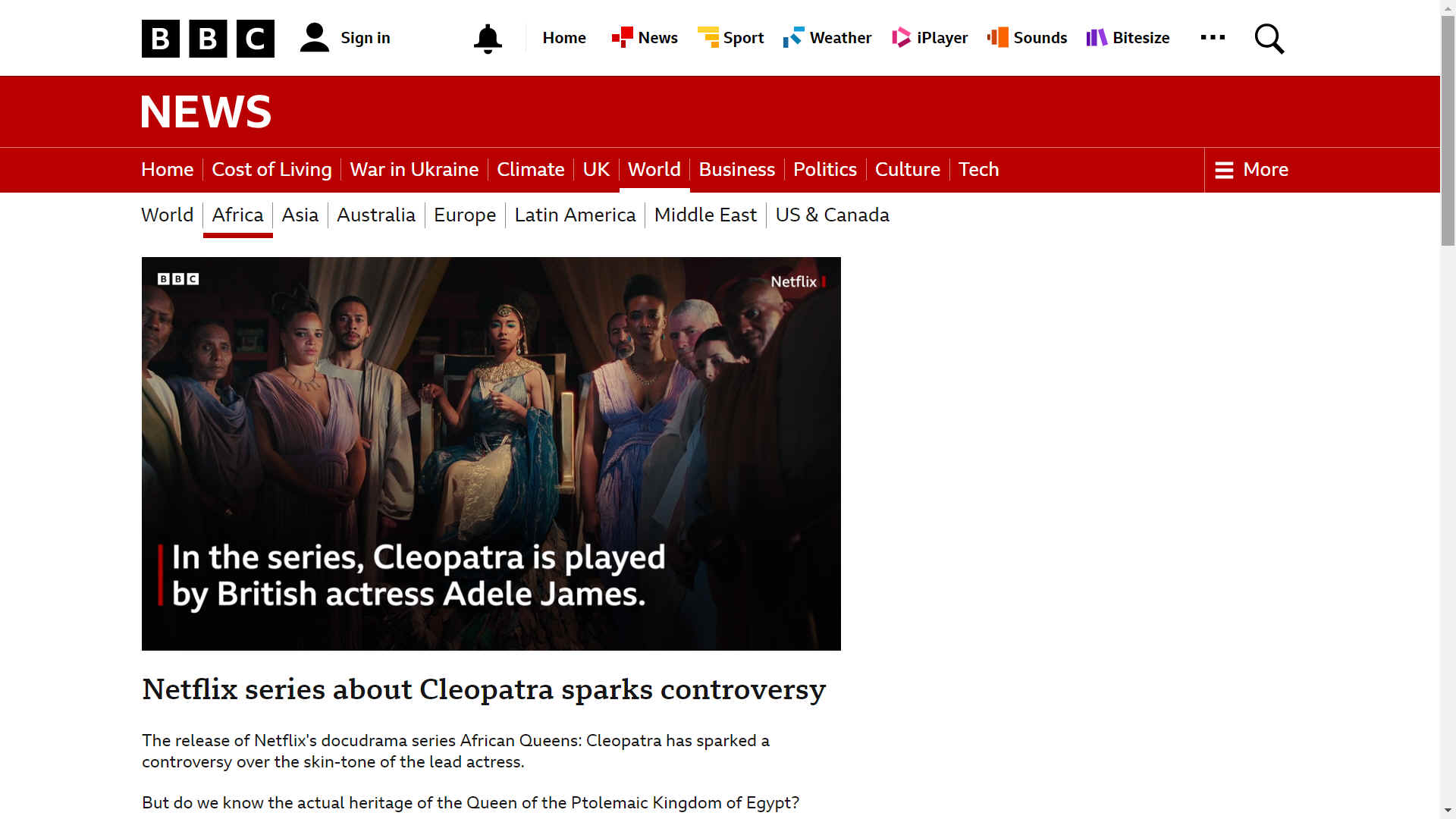 BBC NEWS AFRICA - 12 MAY 2023 - NETFLIX SERIES ABOUT CLEOPATRA SPARKS CONTROVERSY

The release of Netflix's docudrama series African Queens: Cleopatra has sparked a controversy over the skin-tone of the lead actress.

But do we know the actual heritage of the Queen of the Ptolemaic Kingdom of Egypt?

The BBC's Nyasha Michelle has spoken to British actress Adele James who plays Cleopatra in the series.

Produced and edited by Ameer Ahmed


BLACKWASHING IN OTHER FILMS AND SHOWS

James Bond (2022) - Talk of casting Idris Elba (proposed) as the British secret service spy.

Anne Boleyn (2021) - Black English actress Jodie Turner-Smith played the Queen of England in a British TV series. Anne Boleyn was white and the second wife of King Henry VIII.

Saint Joan (2020) - Black New Yorker Condola Rashad played the French heroine Joan of Arc in a stage production of the tale set in the 15th century. In the play, Rashad is a gender non-confirming Joan.

Troy: Fall of a City (2018) - In the TV drama, Achilles, the Greek hero of the Trojan War is played by black English actor David Gyasi.

The Hollow Crown (2012 - 2016) - Sophie Okonedo, a Nigerian-British actress, played Queen Margaret of Anjou in the Shakespearean TV adaptation. Margaret, of French descent, was Queen of England and married to King Henry VI from 1445 to 1461.

Once Upon a Time (2011 - 2018) - The ABC series about fairytales features a black actor Sinqua Walls as Sir Lancelot. Lancelot is a British character who features as one of King Arthur's close companions and one of the greatest Knights of the Round Table. Arthur was a legendary king of Britain and a central figure in the medieval literary tradition.

Robin Hood (2006 - 2009) - The BBC series featured black English actor David Harewood as Friar Tuck. Friar Tuck is one of the legendary Merry Men, the band of heroic outlaws in the folklore of Robin Hood which was set in England's Sherwood Forest in the 15th century.
MEDIA INDEX
BBC NEWS - NETFLIX CLEOPATRA DOCUDRAMA 10 MAY 2023
BRISBANE TIMES - RADAR REVEALS POSSIBLE LOCATION CLEOPATRA'S TOMB 2009
CBC - CLEOPATRA OUTSMARTED EVERYONE, FEBRUARY 2021
CBS - WHY SOME EGYPTIANS ARE FUMING OVER NETFLIX'S BLACK CLEOPATRA
DAILY MAIL - ADELE JAMES BREAK SILENCE AS TO BLACKWASHING CLAIMS MAY 2023
GREEK CITY TIMES - ARCHAEOLOGIST CLAIMS TO BE CLOSE TO DISCOVERY OF CLEOPATRA 2021
LIVESCIENCE - WHERE IS CLEOPATRA'S TOMB/PALACE JULY 2020
ROTTEN TOMATOES - CLEOPATRA CRITICS, SERIES 1 REVIEWS MAY 2023
SKYE NEVILLE - PLASTIC FREE COMICS, WAITROSE BANS
SPECTATOR - THE TROUBLE WITH NETFLIX'S QUEEN CLEOPATRA 29 MAY 2023
THE CONVERSATION - WHY THE DISCOVERY OF CLEOPATRA'S TOMB COULD REWRITE HISTORY 2022
THE GUARDIAN - NETFLIX, NO NEED FOR WHITE ACTOR 10 MAY 2023
THE SUN - QUEEN CLEOPATRA'S TOMB, TAPOSIRIS MAGNA 2020
THE SUN - THE REICH STUFF: GLOBAL HUNT FOR HITLER'S LOST £20 BILLION NAZI GOLD HORDE APRIL 2021
UNDERWATER PHOTOGRAPHY GUIDE - CLEOPATRA'S SUNKEN PALACE
USA TODAY - MUSTAFA WAZIRI, ALEXANDRIA, EGYPTIAN ARCHAEOLOGISTS 2018
YOUTUBERS - MAKEUP, CLEOPATRA'S FACE & EYE COSMETICS, MUMMY MASK
YOUTUBERS - NETFLIX VIDEO COMMENTS MAY 2023
ZAHI HAWASS - DOCUMENTARY: CLEOPATRA VII PHILOPATOR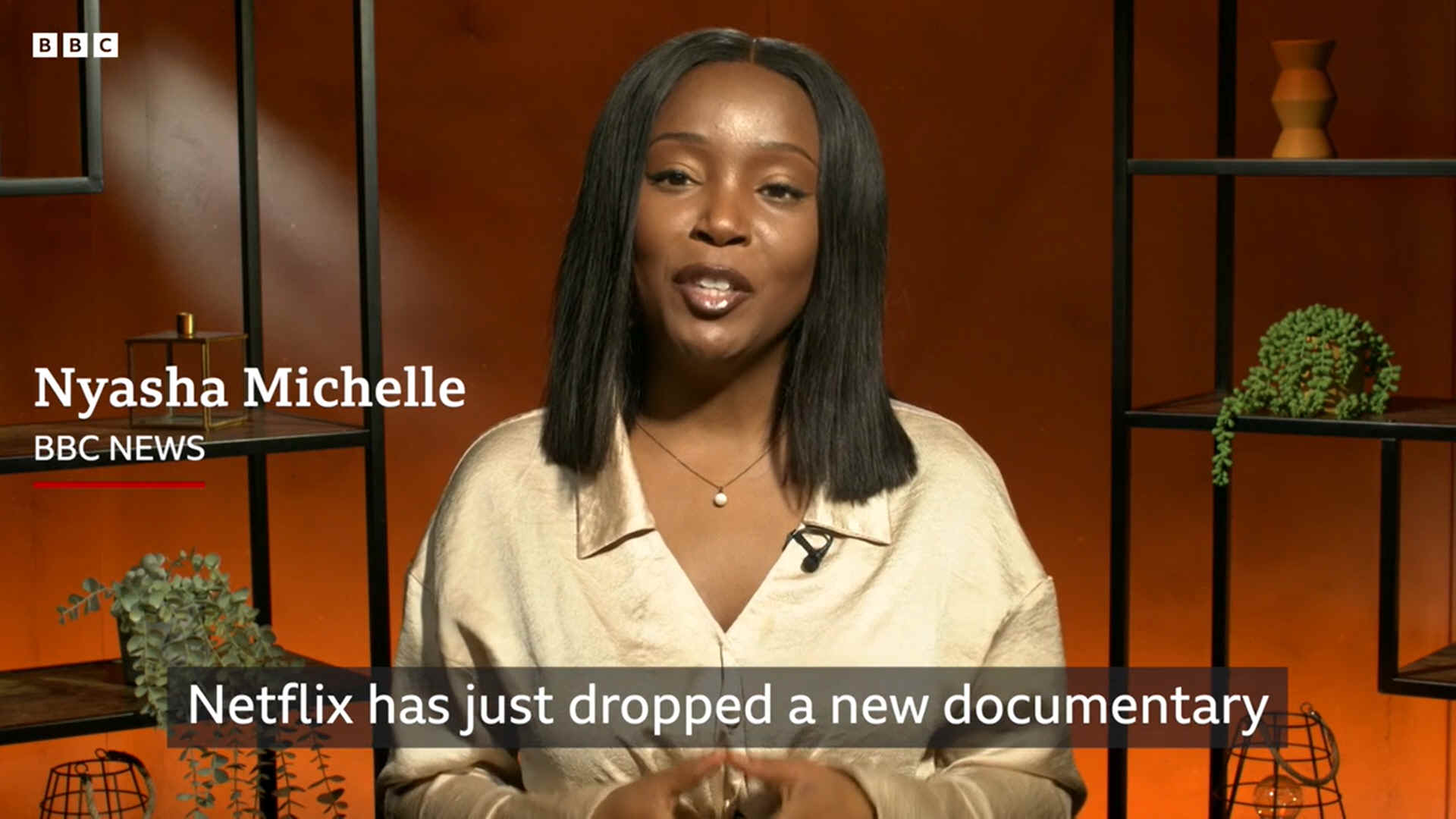 https://www.bbc.co.uk/news/av/world-africa-65574733
https://www.dailymail.co.uk/tvshowbiz/article-12065875/Adele-James-breaks-silence-Queen-Cleopatra-blackwashing-claims.html
https://www.msn.com/en-gb/entertainment/news/queen-cleopatra-actress-adele-james-says-claims-of-blackwashing-are-fundamentally-racist/ar-AA1b4dq6
CLONED REPLICANT - Using the latest technology in computer genome mapping and digital DNA splicing, an occult sect of scientists, reincarnate Cleopatra VII, who died in 30BC, having located and plundered her sarcophagus from its watery grave. The resurrected Pharaoh has to mesh with the modern world she's been reborn into, where the Fourth Reich harbour evil plans for her. We are looking to build a team of artists for a series of John Storm graphic novels. Students and professionals, all welcome - if you like this style of illustration - and stories to amaze.
DOCUSERIES