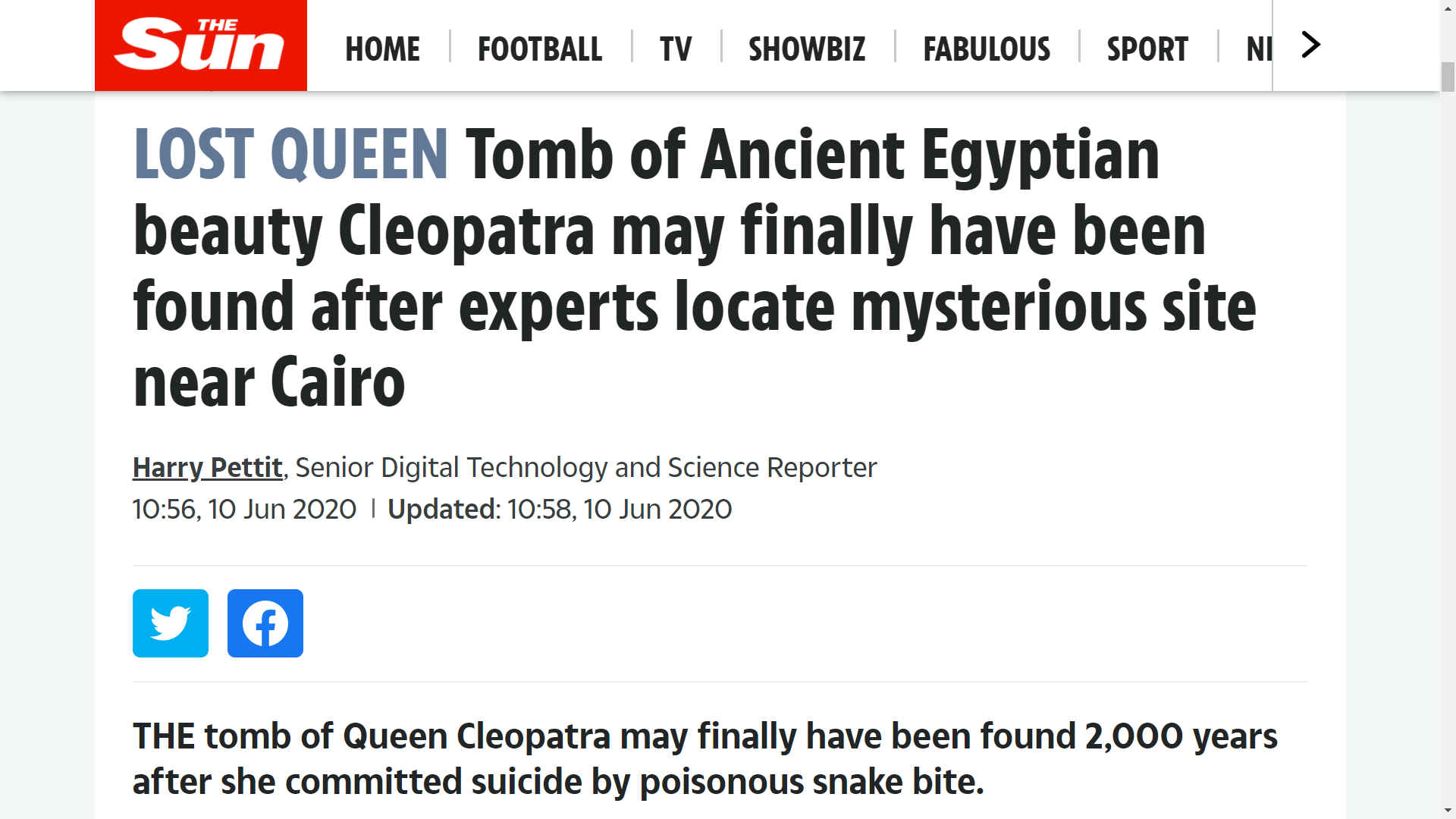 LOST QUEEN - TOMB OF ANCIENT EGYPTIAN BEUATY CLEOPATRA MAY FINALLY HAVE BEEN FOUND AFTER EXPERTS LOCATE MYSTERIOUS SITE NEAR CAIRO

THE tomb of Queen Cleopatra may finally have been found 2,000 years after she committed suicide by poisonous snake bite.

In a new documentary, experts suggest the Ancient Egyptian Pharaoh is buried in a mysterious site on the Nile Delta.

Archaeologists are digging at the site of Taposiris Magna, just 60 miles from Cairo, in hopes of unravelling the mystery behind this elusive queen.

Their search will be revealed on the Science Channel special: "Cleopatra: Sex, Lies and Secrets" that premieres on June 21 at 8 pm ET/PT.

"In Egypt, on the edge of the Nile delta, a massive archaeological dig is underway as experts search for the tomb of Egypt's most famous pharaoh," explains Science Channel in a statement.

"A new theory about Cleopatra's burial ground introduced by archaeologist Dr. Kathleen Martinez, suggests her tomb may be found in a place known as Taposiris Magna."

Cleopatra was the last queen of Egypt and is one of history's most famous female rulers.

She is famous for marrying the Roman Emperor Julius Caesar and was played by Elizabeth Taylor in the eponymous 1963 Hollywood film.

The queen died in 30BC, reportedly by suicide after she was captured and arrested in the Egyptian city of Alexandria by Roman ruler Octavian.

According to legend, Cleopatra had her servants smuggle poisonous snakes into her makeshift cell which she allowed to bite her to death.

Archaeologists have never found Cleopatra's tomb, but they believe it's located somewhere near Alexandria.

Taposiris Magna has long been touted as Cleopatra's final resting place, but archaeologists are yet to turf up her tomb.

Sitting just outside Alexandria, the temple's surrounding city of the same name was a prominent port town during Cleopatra's time.

"Built over 2,000 years ago, the grounds of Taposiris Magna are honeycombed with hidden passages and tombs," Science Channel said.

"When experts astonishingly uncover an undisturbed tomb decorated in gold leaf, it could be the answer to the 2,000-year-old mystery of Cleopatra's final resting place."

Cleopatra VII was born in 70 or 69 BC and ruled Egypt as co-regent for almost 30 years.

Following her death, Egypt was annexed by its Roman rulers, effectively ending the 3,000-year-old Ancient Egyptian Empire.

Pharaohs often built huge tombs to be buried in, but given her status as a prisoner of Rome at the time of her death, it's likely Cleopatra was given a quiet burial in an austere tomb.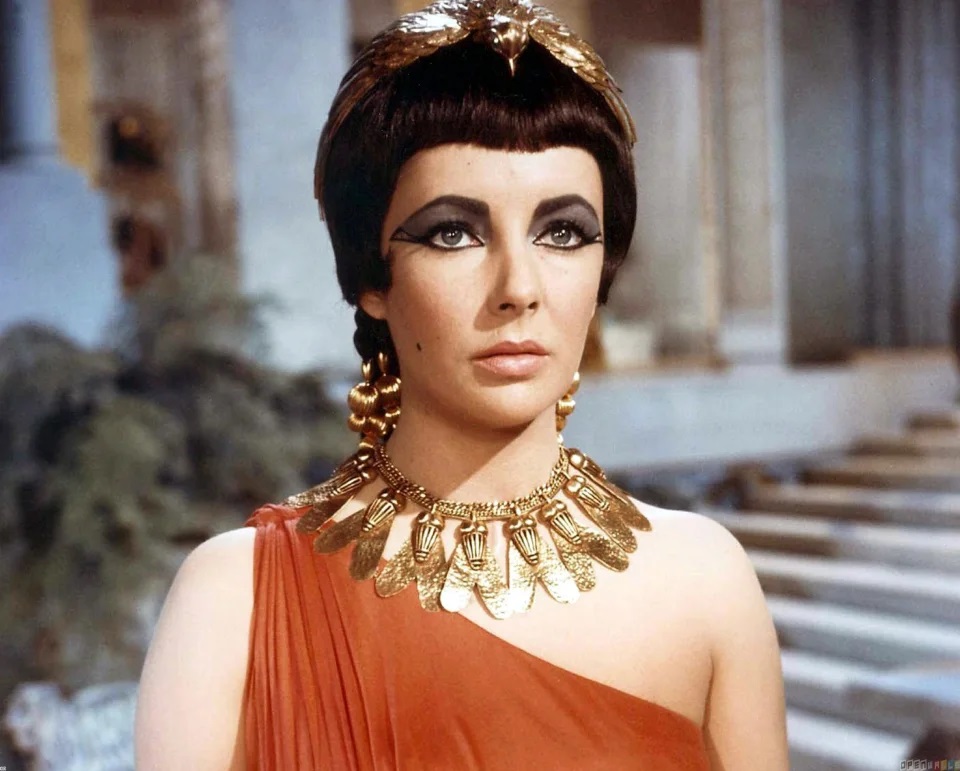 A BRIEF HISTORY OF ANCIENT EGYPT

Here's everything you need to know...

* The Ancient Egyptians were an advanced civilisation who at one point owned a huge portion of the globe

* The civilisation began about 5,000 years ago when ancient humans began building villages along the River Nile

* It lasted for about 3,000 years and saw the building of complex cities centuries ahead of their time – as well as the famous Great Pyramids

* The Ancient Egyptians were experts at farming and construction

* They invented a solar calendar, and one of the world's earliest writing systems: The hieroglyph

* The Egyptians were ruled by kings and queens called pharaohs

* Religion and the afterlife were a huge part of Ancient Egyptian culture. They had over 2,000 gods

* Pharaohs built huge elaborate tombs to be buried in, some of which were pyramids – at the time among the largest buildings in the world

* The Egyptians believed in life after death, and important people's corpses were mummified to preserve their bodies for the afterlife

* The Ancient Egytpian empire fell due to a mix of factors, including wars with other empires and a 100-year period of drought and starvation
By Harry Pettit, Senior Digital Technology and Science Reporter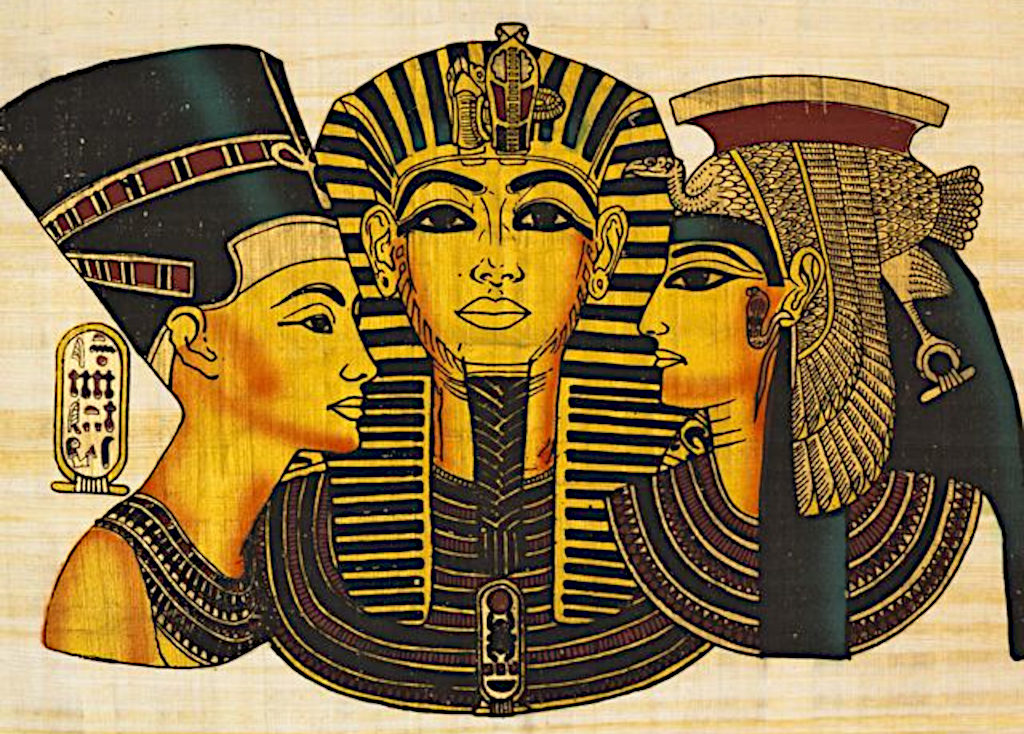 https://www.thesun.co.uk/tech/11826169/tomb-ancient-egypt-cleopatra-cairo/
https://www.thesun.co.uk/tech/11826169/tomb-ancient-egypt-cleopatra-cairo/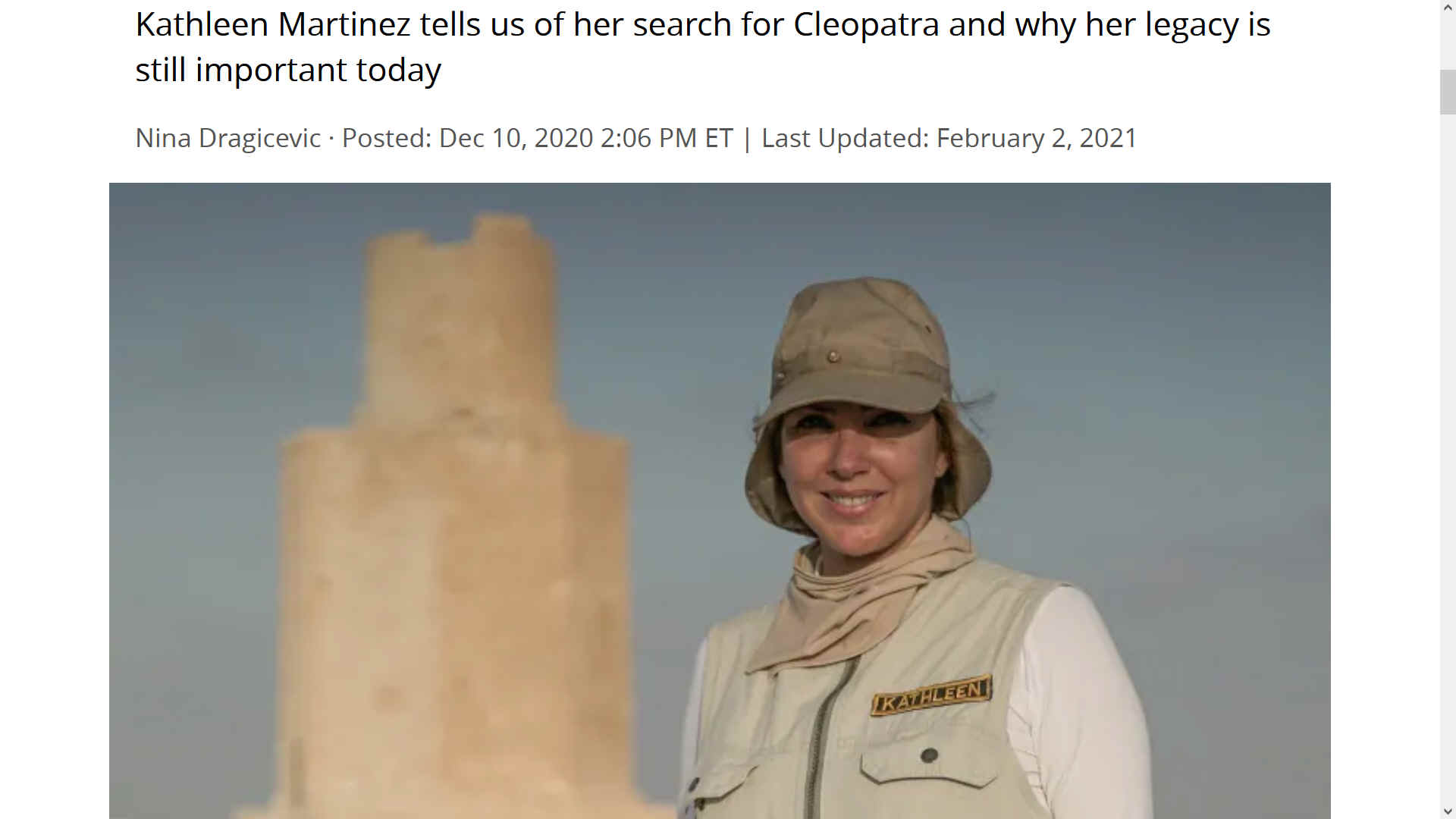 In our story the Baron Heinrich Richtohofen, John Storm and Hal, the AI onboard the Elizabeth Swann, all agree that Cleopatra is entombed underwater in her former Palace at Alexandria, or at a special mausoleum at Thonis-Heracleion. It seems we are not alone in this belief. For sure, the work at Taposiris Magna is helping to build a picture of life under Cleopatra, when hundreds of coins with her image and other artifacts, confirm her as a revered ruler of her time. We hope the scientific community will not mind us bending history a little, in the interests of promoting archaeology and marine biology as essential sciences - generating a reliable data base - of the natural world and man's ascendancy.
BBC NEWS - NETFLIX CLEOPATRA DOCUDRAMA 10 MAY 2023
BRISBANE TIMES - RADAR REVEALS POSSIBLE LOCATION CLEOPATRA'S TOMB 2009
CBC - CLEOPATRA OUTSMARTED EVERYONE, FEBRUARY 2021
CBS - WHY SOME EGYPTIANS ARE FUMING OVER NETFLIX'S BLACK CLEOPATRA
DAILY MAIL - ADELE JAMES BREAK SILENCE AS TO BLACKWASHING CLAIMS MAY 2023
GREEK CITY TIMES - ARCHAEOLOGIST CLAIMS TO BE CLOSE TO DISCOVERY OF CLEOPATRA 2021
LIVESCIENCE - WHERE IS CLEOPATRA'S TOMB/PALACE JULY 2020
ROTTEN TOMATOES - CLEOPATRA CRITICS, SERIES 1 REVIEWS MAY 2023
SKYE NEVILLE - PLASTIC FREE COMICS, WAITROSE BANS
SPECTATOR - THE TROUBLE WITH NETFLIX'S QUEEN CLEOPATRA 29 MAY 2023
THE CONVERSATION - WHY THE DISCOVERY OF CLEOPATRA'S TOMB COULD REWRITE HISTORY 2022
THE GUARDIAN - NETFLIX, NO NEED FOR WHITE ACTOR 10 MAY 2023
THE SUN - QUEEN CLEOPATRA'S TOMB, TAPOSIRIS MAGNA 2020
THE SUN - THE REICH STUFF: GLOBAL HUNT FOR HITLER'S LOST £20 BILLION NAZI GOLD HORDE APRIL 2021
UNDERWATER PHOTOGRAPHY GUIDE - CLEOPATRA'S SUNKEN PALACE
USA TODAY - MUSTAFA WAZIRI, ALEXANDRIA, EGYPTIAN ARCHAEOLOGISTS 2018
YOUTUBERS - MAKEUP, CLEOPATRA'S FACE & EYE COSMETICS, MUMMY MASK
YOUTUBERS - NETFLIX VIDEO COMMENTS MAY 2023
ZAHI HAWASS - DOCUMENTARY: CLEOPATRA VII PHILOPATOR