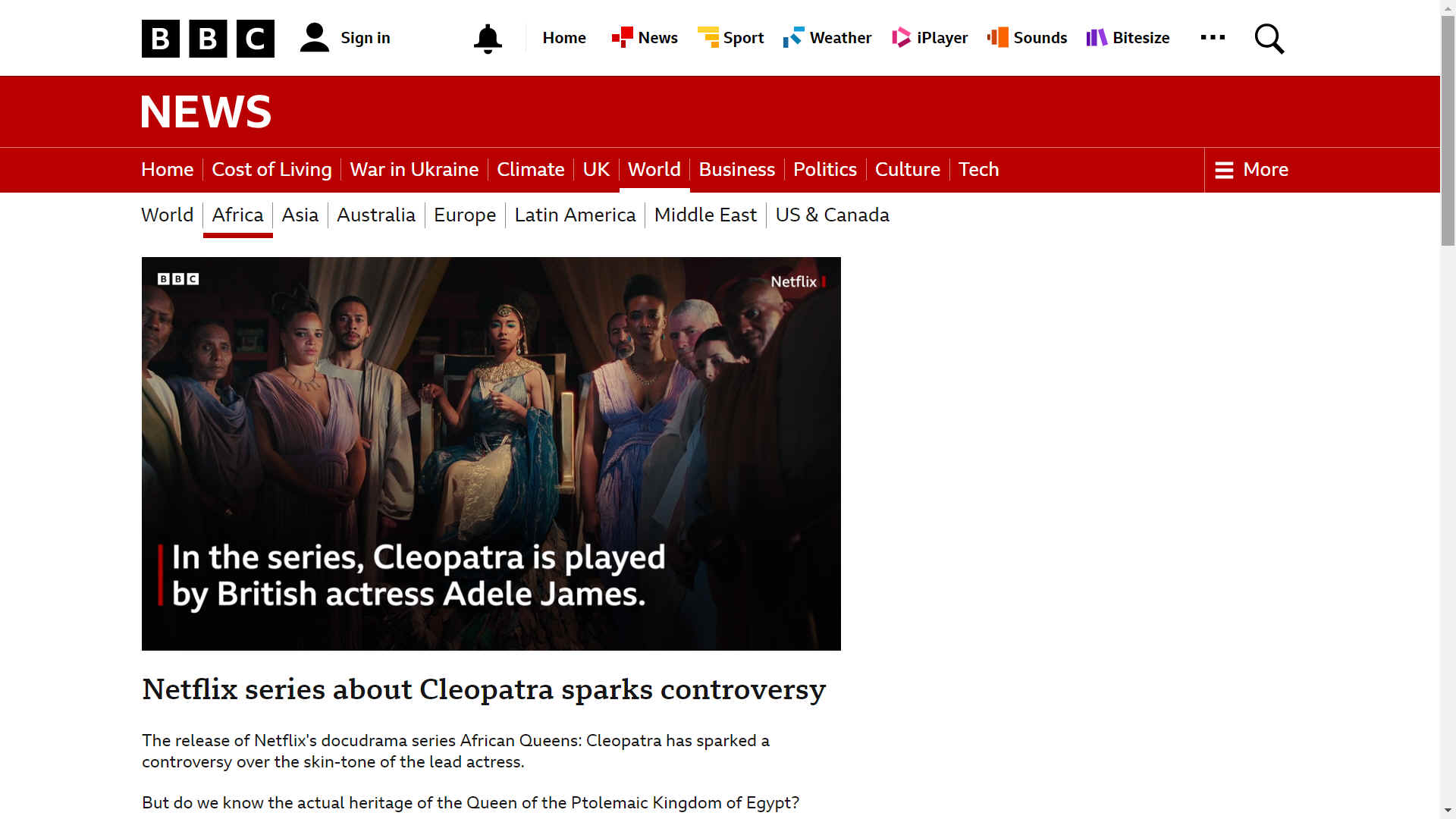 The number of people taking to Youtube over the Netflix Cleopatra docu-drama is staggering, as is the low ranking of the series, potentially a cause of concern for the streaming entertainment service - as to loss-making. Where many of their works are very popular $dollar earners.
We don't intend commenting on any of the videos included on this page, which is for the purpose of media review. You can make up your own mind, in between the sometimes quite emotive rants, there is some quite serious and most useful ancestral debate, searching for the truth as to who Cleopatra VII's mother may have been. At the moment headed by the eminent archaeologists Zahi Hawass and Kathleen Martinez. What amazed us what how clued up the speakers appear to be, confirming much interest in Egyptology and the most famous (and last) Pharaoh Queen of Egypt.
The issue of most concern for us is the whereabouts of Cleopatra's tomb. If we could find that, we could use the Pharaoh Queen's DNA to determine just what she looked like for sure, including her ancestry, that we know was mixed race in any event. For this we must rely on the archaeologists on land, and possibly, underwater. Since Alexandria and Heracleion are both sunken cities, in the Mediterranean Sea, off the cost of Egypt, North Africa.


BLACKWASHING IN OTHER FILMS AND SHOWS

James Bond (2022) - Talk of casting Idris Elba (proposed) as the British secret service spy.

Anne Boleyn (2021) - Black English actress Jodie Turner-Smith played the Queen of England in a British TV series. Anne Boleyn was white and the second wife of King Henry VIII.

Saint Joan (2020) - Black New Yorker Condola Rashad played the French heroine Joan of Arc in a stage production of the tale set in the 15th century. In the play, Rashad is a gender non-confirming Joan.

Troy: Fall of a City (2018) - In the TV drama, Achilles, the Greek hero of the Trojan War is played by black English actor David Gyasi.

The Hollow Crown (2012 - 2016) - Sophie Okonedo, a Nigerian-British actress, played Queen Margaret of Anjou in the Shakespearean TV adaptation. Margaret, of French descent, was Queen of England and married to King Henry VI from 1445 to 1461.

Once Upon a Time (2011 - 2018) - The ABC series about fairytales features a black actor Sinqua Walls as Sir Lancelot. Lancelot is a British character who features as one of King Arthur's close companions and one of the greatest Knights of the Round Table. Arthur was a legendary king of Britain and a central figure in the medieval literary tradition.

Robin Hood (2006 - 2009) - The BBC series featured black English actor David Harewood as Friar Tuck. Friar Tuck is one of the legendary Merry Men, the band of heroic outlaws in the folklore of Robin Hood which was set in England's Sherwood Forest in the 15th century.
https://www.dailymail.co.uk/tvshowbiz/article-12065875/Adele-James-breaks-silence-Queen-Cleopatra-blackwashing-claims.html
https://www.bbc.co.uk/news/av/world-africa-65574733
https://www.dailymail.co.uk/tvshowbiz/article-12065875/Adele-James-breaks-silence-Queen-Cleopatra-blackwashing-claims.html
https://www.msn.com/en-gb/entertainment/news/queen-cleopatra-actress-adele-james-says-claims-of-blackwashing-are-fundamentally-racist/ar-AA1b4dq6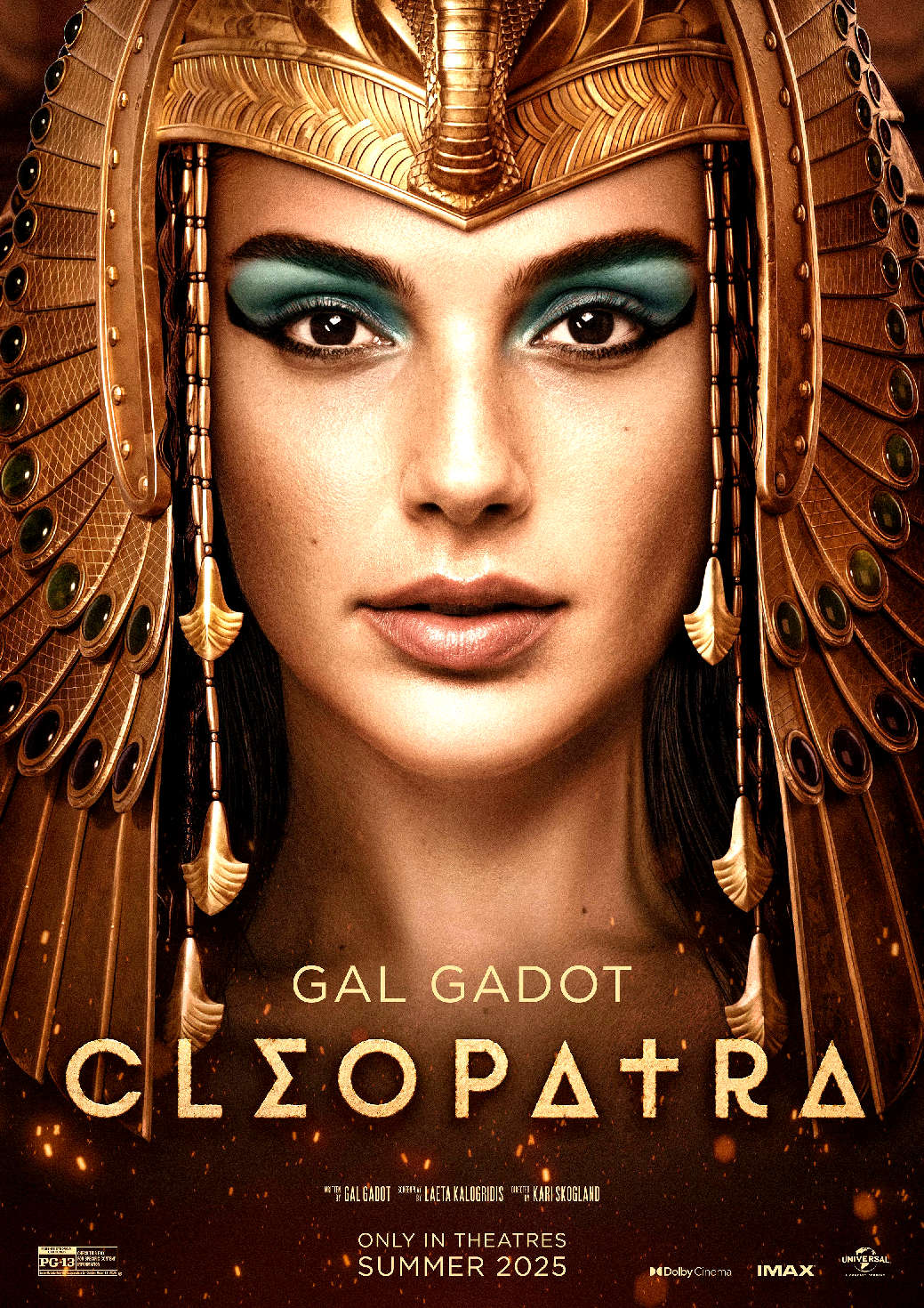 BLACK & WHITE WASHING - There is no hard and fast rule concerning the accuracy of ethnic casting in fiction, with black and white actors, all getting a look in. Black more and more, but it appears not Greek and Macedonian, who are under represented when it comes to playing Cleopatra. There is some scope for interpretation, since we do not know who Cleopatra VII Philopator's mother was - thought to be Bernice. But with no definitive proof. Where Elizabeth Taylor played Cleopatra, almost certainly seen as whitewashing the part, Gal Gardot may be more acceptable, colour wise to many, if not (perhaps) ethnicity accurate. But then, Ms Gardot and Laeta Kalogridis (screenplay) Kari Skogland (director) are not making a documentary. They are making a movie. According to IMDB their film could be on release in 2025. Fingers crossed, that all of this controversy does not put them off.
BBC NEWS - NETFLIX CLEOPATRA DOCUDRAMA 10 MAY 2023
BRISBANE TIMES - RADAR REVEALS POSSIBLE LOCATION CLEOPATRA'S TOMB 2009
BRITISH MUSEUM - CLEOPATRA, 17 YEAR OLD DAUGHTER OF CANDACE, THEBES
CBC - CLEOPATRA OUTSMARTED EVERYONE, FEBRUARY 2021
CBS - WHY SOME EGYPTIANS ARE FUMING OVER NETFLIX'S BLACK CLEOPATRA
DAILY MAIL - ADELE JAMES BREAK SILENCE AS TO BLACKWASHING CLAIMS MAY 2023
DISCOVERY MAGAZINE - JUNE 7 2023, WILL WE EVER FIND THE TOMB OF CLEOPATRA?
GREEK CITY TIMES - ARCHAEOLOGIST CLAIMS TO BE CLOSE TO DISCOVERY OF CLEOPATRA 2021
LIVESCIENCE - WHERE IS CLEOPATRA'S TOMB/PALACE JULY 2020
ROTTEN TOMATOES - CLEOPATRA CRITICS, SERIES 1 REVIEWS MAY 2023
SKY HISTORY - THE HIDDEN TOMB OF CLEOPATRA MARCH 2023
SKYE NEVILLE - PLASTIC FREE COMICS, WAITROSE BANS
SPECTATOR - THE TROUBLE WITH NETFLIX'S QUEEN CLEOPATRA 29 MAY 2023
THE CONVERSATION - WHY THE DISCOVERY OF CLEOPATRA'S TOMB COULD REWRITE HISTORY 2022
THE GUARDIAN - NETFLIX, NO NEED FOR WHITE ACTOR 10 MAY 2023
THE SUN - QUEEN CLEOPATRA'S TOMB, TAPOSIRIS MAGNA 2020
THE SUN - THE REICH STUFF: GLOBAL HUNT FOR HITLER'S LOST £20 BILLION NAZI GOLD HORDE APRIL 2021
TWITTER - NETFLIX COMMENTS RE: CLEOPATRA
UNDERWATER PHOTOGRAPHY GUIDE - CLEOPATRA'S SUNKEN PALACE
USA TODAY - MUSTAFA WAZIRI, ALEXANDRIA, EGYPTIAN ARCHAEOLOGISTS 2018
YOUTUBERS - MAKEUP, CLEOPATRA'S FACE & EYE COSMETICS, MUMMY MASK
YOUTUBERS - NETFLIX VIDEO COMMENTS MAY 2023
ZAHI HAWASS - DOCUMENTARY: CLEOPATRA VII PHILOPATOR
DOCU-SERIES CONTROVERSY