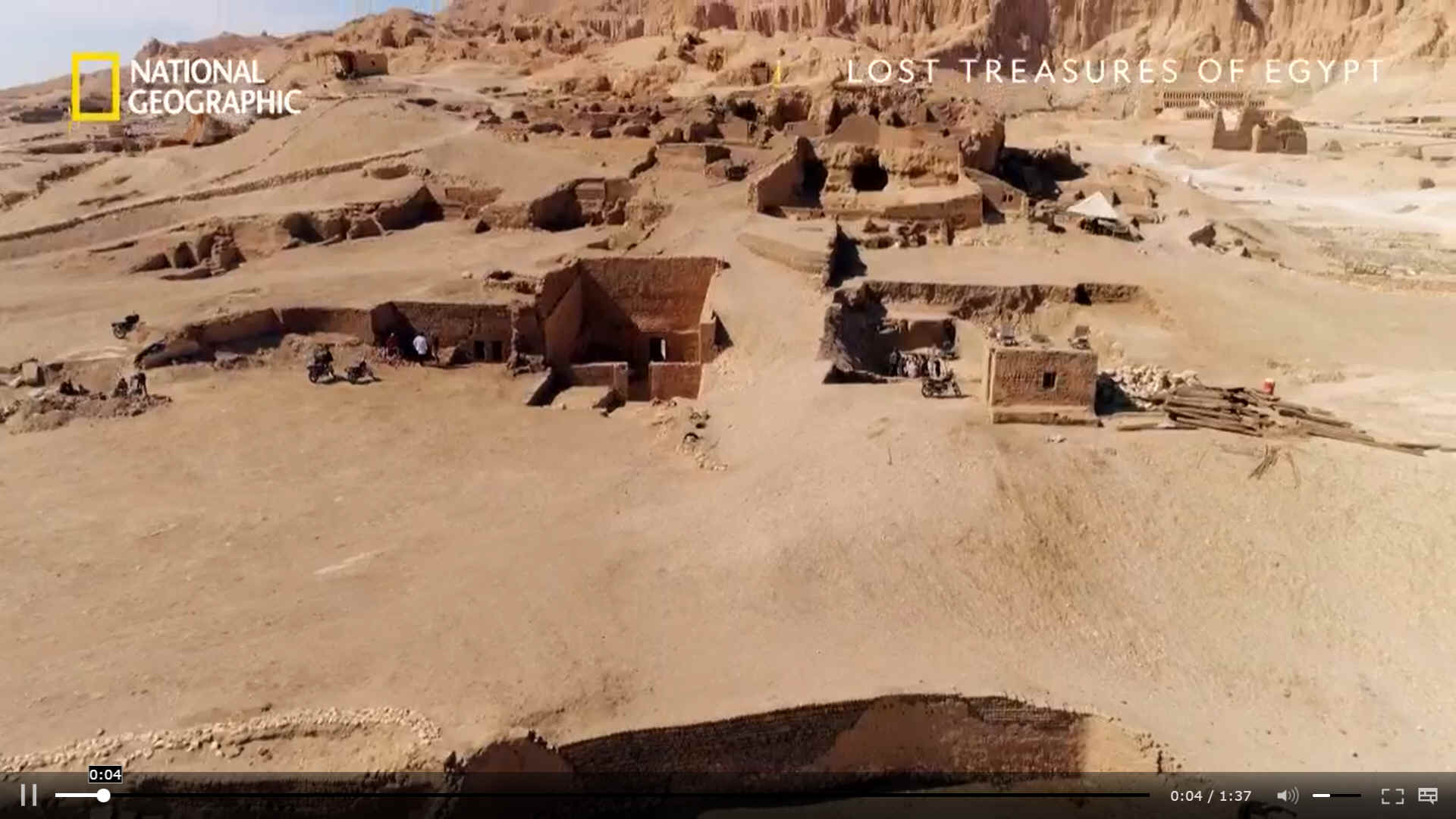 Lost treasures of Egypt, one mile from Valley of the Kings


Ep.3 - Ramses' Rise to Power

Archaeologists investigate Egypt's most powerful king, Ramses the Great. In front of the world's oldest pyramid at Saqqara they unearth a labyrinth of tombs and treasures belonging to one of Ramses' Generals. In a necropolis where Ramses' Nobles are buried, they enter a new tomb. And they investigate his most impressive temples to find out how Ramses became the most celebrated pharaoh of all time.

The "Lost Treasures of Egypt" series was produced for National Geographic by Windfall Films. For Windfall Films (Part of the Argonon Group). Tom Cook was the Series Producer and Dan Kendall and John Fothergill, the Executive Producers.

About National Geographic Partners:

National Geographic Partners LLC (NGP), a joint venture between Disney and the National Geographic Society, is committed to bringing the world premium science, adventure, and exploration content across an unrivalled portfolio of media assets. NGP combines the global National Geographic television channels (National Geographic Channel, Nat Geo Wild, Nat Geo Mundo, Nat Geo People) with National Geographic's media and consumer-oriented assets, including National Geographic magazines; National Geographic studios; related digital and social media platforms; books; maps; children's media; and ancillary activities that include travel, global experiences and events, archival sales, licensing, and e-commerce businesses.
Furthering knowledge and understanding of the world has been the core purpose of National Geographic for 131 years, and now it is committed to going deeper, pushing boundaries, going further for consumers… all while reaching millions of people around the world in 172 countries and 43 languages every month. NGP returns 27 percent of its proceeds to the non-profit National Geographic Society to fund work in the areas of science, exploration, conservation, and education.

EPISODES 1-8 2021-2022

Ep.1 - Mystery of Tut's Tomb
Ep.2 - Legend of the Pyramid Kings

Ep.3 - Ramses' Rise to Power
Ep.4 - Rise of the Mummies

Ep.5 - Secrets of Egypt's Queens

Ep.6 - Pyramid Tomb Raiders

Ep.7 - Tutankhamun's Unsolved Secrets

Ep.8 - Cleopatra, Egypt's Last Pharaoh
REFERENCE
https://press.disney.co.uk/news/national-geographic-returns-again-to-unlock-the-secrets-of-ancient-egypt-in-the-action-packed-third-season-of-lost-treasures-of-egypt-
CLEOPATRA THE MUMMY - UNDER DEVELOPMENT
'Cleopatra - The Mummy' (Cleopatra's Mummy) is the part of the John Storm franchise (for which a draft is available to studios and actor's agents). The John Storm eco franchise is a series of ocean awareness adventures, featuring the incredible solar powered trimaran: Elizabeth Swann. Cleopatra The Mummy, could be the pilot, with Kulo-Luna (script available) or Treasure Island as the sequel. The order of production could be to suit identified gaps in entertainment, in any particular year. Equally, the trilogy, could be adapted for network television, as with the CBS 'Blood and Treasure' TV series.