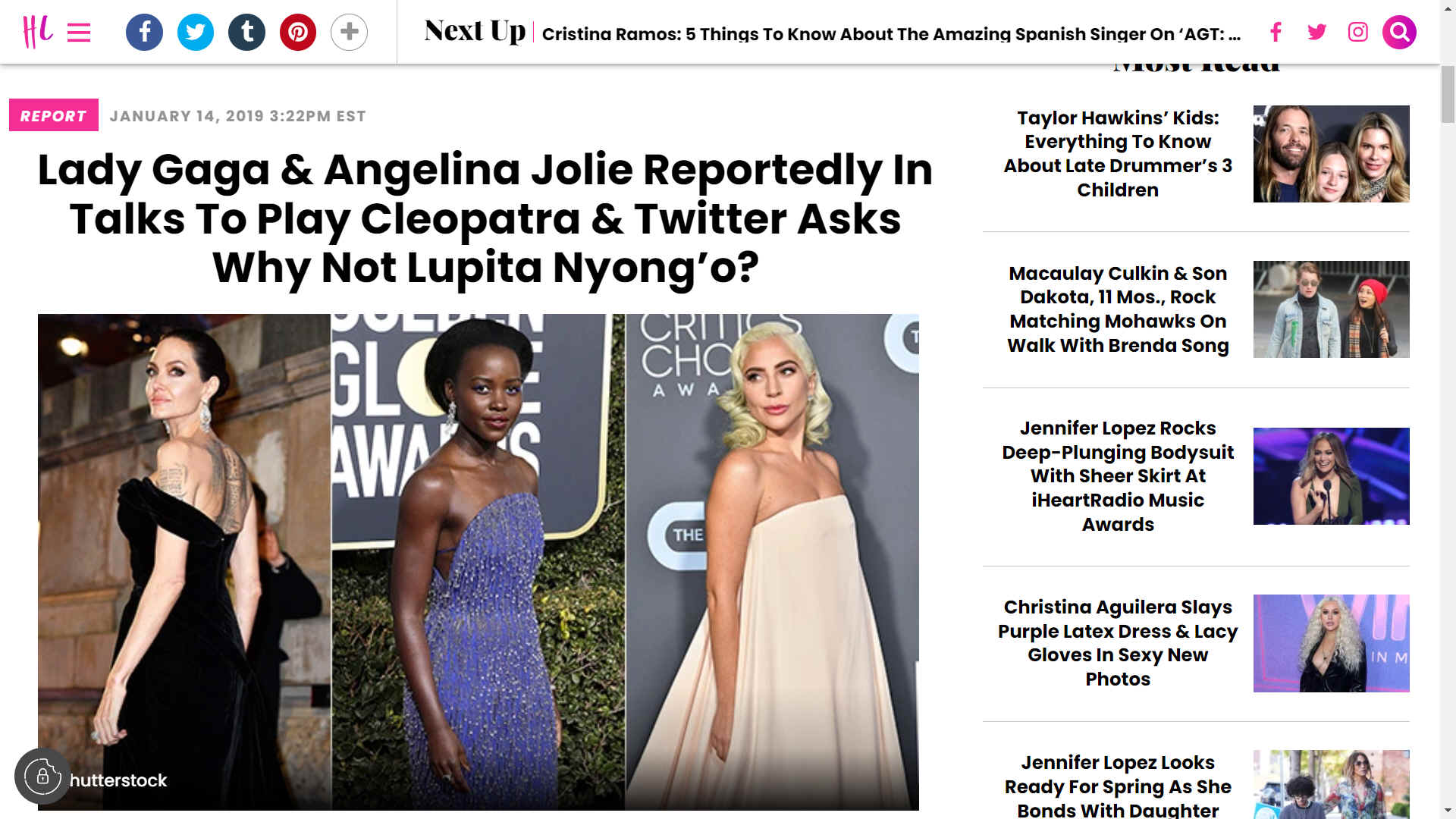 As with any movie, the casting is what makes the film a success or a box office flop. That, coupled with a cracking script.
HOLLYWOOD LIFE - 14 JANUARY 2019

The Daily Star has revealed that Lady Gaga and Angelina Jolie are competing for the title role in Sony's upcoming, big-budget production of Cleopatra.

After the internet collectively groaned at yet another Cleopatra remake, a "whitewashing" debate began to emerge. Should Lady Gaga or Angelina Jolie, both white actors, be playing the Egyptian queen in the first place?

Lady Gaga and Angelina Jolie are reportedly being considered to play Cleopatra in a new flick. Yet, enraged fans demand the role go to a black woman like Danai Gurira or Lupita Nyong'o!

Angelina Jolie, 43, has been "in on-off talks for months with studio bosses at Sony" to play Cleopatra in a new movie, reports The Daily Star. She faces some stiff competition from Lady Gaga, 32, as she's "now also in the running" following her successful showing in A Star Is Born. "Cleopatra was known as the Queen of the Nile, and Elizabeth Taylor firmly established herself as Hollywood's queen in the 1963 film version," a senior production source at Sony told The Daily Star. "There's every reason to think that whoever gets to play her this time around is going to enjoy an equally lofty perch in the motion picture industry."

It's a perch that fans want to see occupied by people other than Angelina and Lady Gaga. When Twitter got word of these two starlets being considered to play the queen of Egypt – which, is in Africa – some said that the role should go to a black woman. "Don't NOBODY wanna watch a white Cleopatra. How about a real queen like Lupita Nyong'o, Danai Gurira (Okoye), Jada Pinkett-Smith, Taraji P. Henson, Kerry Washington? Real women of color. In those days Egypt was in N. Africa. Wasn't no pale-skinned people in that region," tweeted @ShesSeauxKewl. "I'm not sorry to tell y'all but @rihanna definitely has that role owned! Gaga and AJ shouldn't even be in the running. Honestly, if a black woman ain't playing Cleopatra, then NOBODY should play the AFRICAN EGYPTIAN QUEEN CLEOPATRA! PERIOD!" added @MrNickMcGowan.

However, some have pointed out that to be historically accurate, the role should go to a Greek woman. "There's a lot to get annoyed within Hollywood's casting practices but … despite being [a] queen of Egypt, Cleopatra was of Greek descent. The Ptolemaic dynasty was Greek," tweeted @AdamSerwer. It's true. Egypt's Alexandria-based rulers, including Cleopatra, "were ethnically Greek," according to Smithsonian.com, as they were "descended from Alexander the Great's general Ptolemy I Soter. They would have spoken Greek and observed Greek customs, separating themselves from the ethnically Egyptian majority. But unlike her forebears, Cleopatra actually bothered to learn the Egyptian language.

Three things to note: first, 1963's Cleopatra, despite being the highest-grossing film of the year, actually lost money because it was so expensive to make. Secondly, accuracy might not be an issue for this film, as The Daily Star claims Sony's flick is a "dirty, bloody political thriller told from a feminist perspective." The fictional elements mean that anyone from Taraji to Rihanna could play the part. Third, take this report with a grain of salt, as The Daily Star was also the publication that claimed Dwayne "The Rock" Johnson trashed "generation snowflake," but the former WWE star came out to say that "the interview never took place, never happened, never said any of those words, completely untrue, 100% fabricated."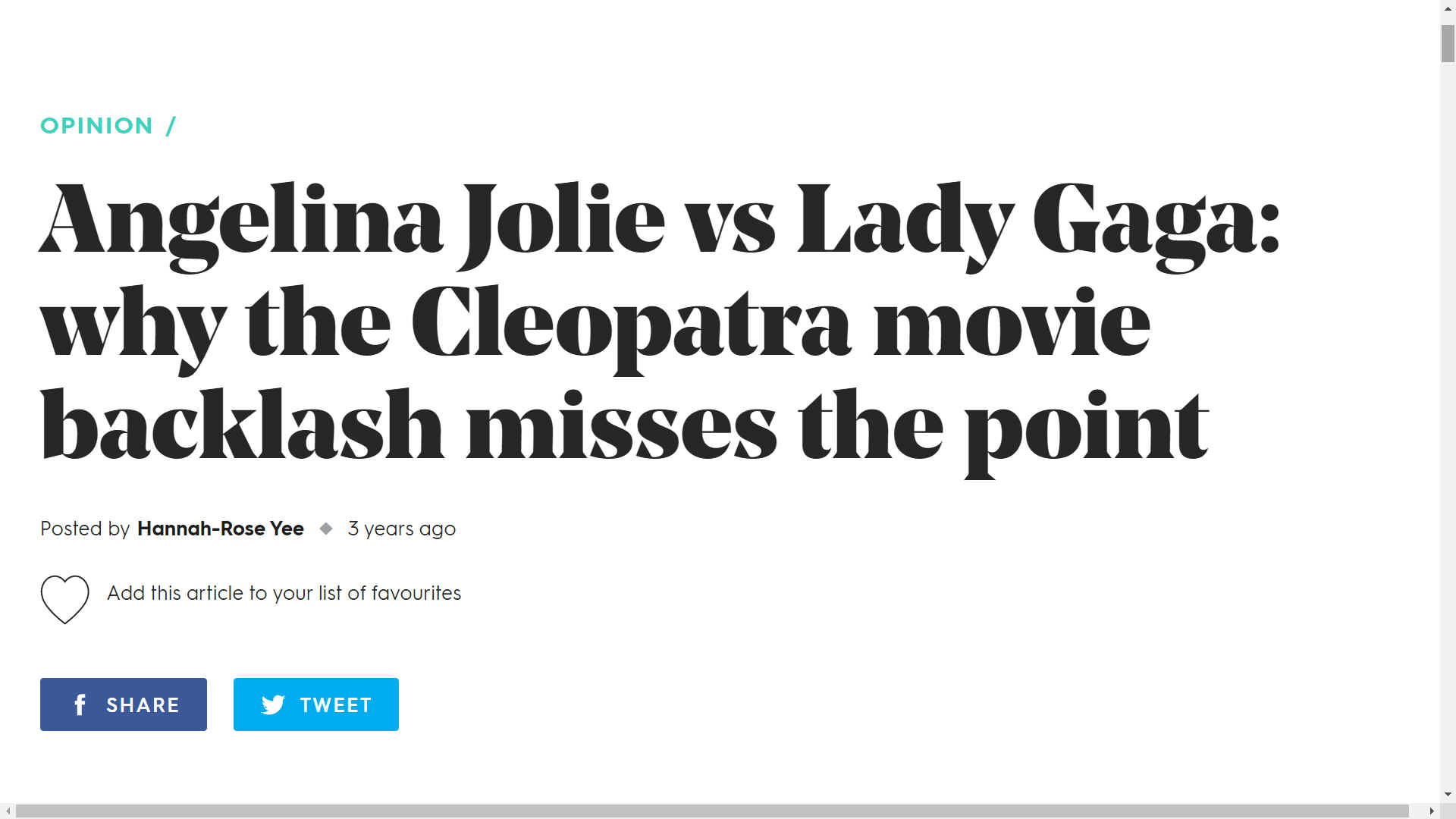 Does it miss the point, or are Hollywood just hedging their bets, trying not to lose any more money of the Egyptian Queen theme. Obviously, Cleopatra has a guaranteed audience, whereas, setting out a different queen will be laborious and probably not entice the theatre or net audience to shell out the peanuts.
STYLIST 2019

Almost 1500 years before the birth of Christ, the second female pharaoh in the history of Egypt ascended to the throne.

She ruled for 15 years in a time of peace and prosperity, enhancing trade routes and overseeing an ambitious building program that saw the construction of key temples and infrastructure in the kingdom. Her reign, the longest for a female pharaoh in the history of Ancient Egypt, saw the proliferation of national wealth and the dawn of an architectural renaissance in the country. By any yardstick that you choose to measure it, she was a remarkable leader.

Which Egyptian pharaoh do you think I am talking about here? If you said Cleopatra, arguably the most famous of the Ancient female rulers, you'd be incorrect.

This is the story of Hatshepsut, long considered one of the most formidable Egyptian queens by historians but completely obliterated from the canon of popular culture. She has never been the subject of a movie, although a short film directed by Sonia Machado-Hines is currently in production.

Cleopatra, on the other hand, has featured in more than 20 movies, television shows and animated features. Famously, the Egyptian queen has been portrayed by Elizabeth Taylor, Claudette Colbert and Vivien Leigh onscreen. And, according to a rumour out of Hollywood today, a new biopic about the ruler is in the works, with both Angelina Jolie and Lady Gaga down to the final two actresses being considered for the part.

Jolie has long been associated with the film, which has been in the works at Sony since before the infamous email hack at the film studio in 2014. In 2018, Blade Runner 2049 director Denis Villeneuve was being eyed to take the helm. Gaga's name was thrown in the ring this year following her tour de force performance in A Star Is Born.

When the news hit Twitter today, a debate immediately emerged about whether or not Jolie and Gaga were suitable actresses to play the role of Cleopatra. Some accused their potential casting of whitewashing the Egyptian queen in the manner of most Hollywood movies set in the Ancient world. Just think of Joel Edgerton in Exodus: Gods and Kings or Jake Gyllenhaal in Prince of Persia.

Others maintained that, in fact, Cleopatra was descended from a Greek/Macedonian general and, therefore, was ethnically white.

In truth, no-one really knows Cleopatra's racial background, in part because Ancient Egypt didn't exactly keep births, deaths and marriages records, but also because there is some debate about whether or not her mother was ethnically African. (Archaeologists who discovered the tomb of Cleopatra's sister in Ephesus, Turkey in 2009 maintain that the remains of the skeleton indicated African ethnicity.) By the time Cleopatra was born, her family had lived and ruled in Egypt for 300 years. It is easy to agree with Egyptologists who argue that Cleopatra was a mixed-race woman.

But this debate completely misses the point. It's a no-brainer that the role of Cleopatra in this new movie should finally go to a BAME actor, especially considering that in the most famous iterations of Cleopatra's story onscreen thus far she has always been portrayed by a white woman. It's 2019, and it's time that her story is told by a black actress, no matter what you think about her racial background.

But the more important question the news about this film should be raising is why we're making another Cleopatra movie at all.

Cleopatra wasn't what you would call a successful ruler. Her reign was the last by a woman of the Ptolemaic dynasty, which swept into power in Egypt on the coattails of Alexander the Great's general Ptolemy Soter. Cleopatra's story is often told through the tragedy of her personal life, which involved first a relationship with Julius Caesar and then one with Mark Antony. It was the latter relationship that kick started the final war of the Roman Republic, with Mark Antony on one side and emperor Octavian on the other. When Mark Antony lost the battle both he and Cleopatra committed suicide.

It's not hard to see why Cleopatra's story has proven so compellingly enduring. It has everything: high drama, war, betrayal, tragedy and lots of sex. Its motifs, from the tale of Cleopatra leaping from a rolled carpet to seduce Caesar to the infamous death-by-asp, are breathlessly melodramatic. She has a great story, and it is one Hollywood has long loved to tell. In more than 20 different iterations.

But isn't it time that Hollywood moved on? We'd love for the stories of other Ancient female rulers to be told, whether it's Hatshepsut or Nefertiti, the beautiful ancient Egyptian queen and architect of the sun cult.

Or what about Amina, queen for 34 years in Nigeria and one of the greatest warriors in her kingdom? Candace, the Ethiopian Empress, was another fearsome fighter, who held her ground against Alexander the Great. Looking wider into the rest of the ancient world, we'd love to see a movie about Semiramis, the only woman who ever ruled over the vast Assyrian empire.

Hollywood needs to get over its obsession with telling the same stories over and over again and open its eyes to the variety of female-led narratives available throughout history.

And when those movies are made, they better star diverse actors and actresses.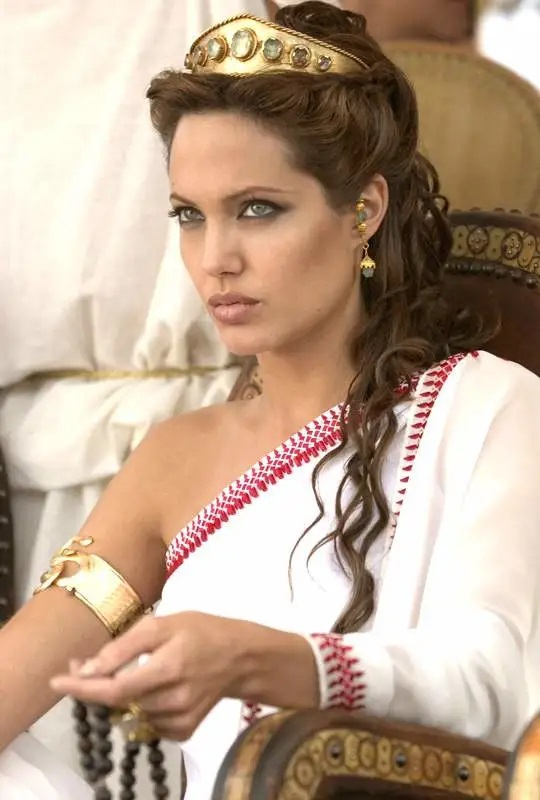 REFERENCE
https://hollywoodlife.com/2019/01/14/cleopatra-movie-casting-angelina-jolie-lady-gaga-reaction/
https://www.stylist.co.uk/opinion/cleopatra-lady-gaga-angelina-jolie-whitewashing-elizabeth-taylor-debate-diversity-representation/245816
CLEOPATRA THE MUMMY - UNDER DEVELOPMENT
'Cleopatra's Mummy' is one of a trilogy in the John Storm franchise of ocean awareness adventures, featuring the incredible solar and hydrogen powered trimaran: Elizabeth Swann. 'Cleopatra The Mummy,' the prequel to 'Kulo-Luna,' or Treasure Island. The order of production could be to suit identified gaps in entertainment, in any particular year. Equally, the trilogy, could be adapted for network television. An example of which is Blood and Treasure.