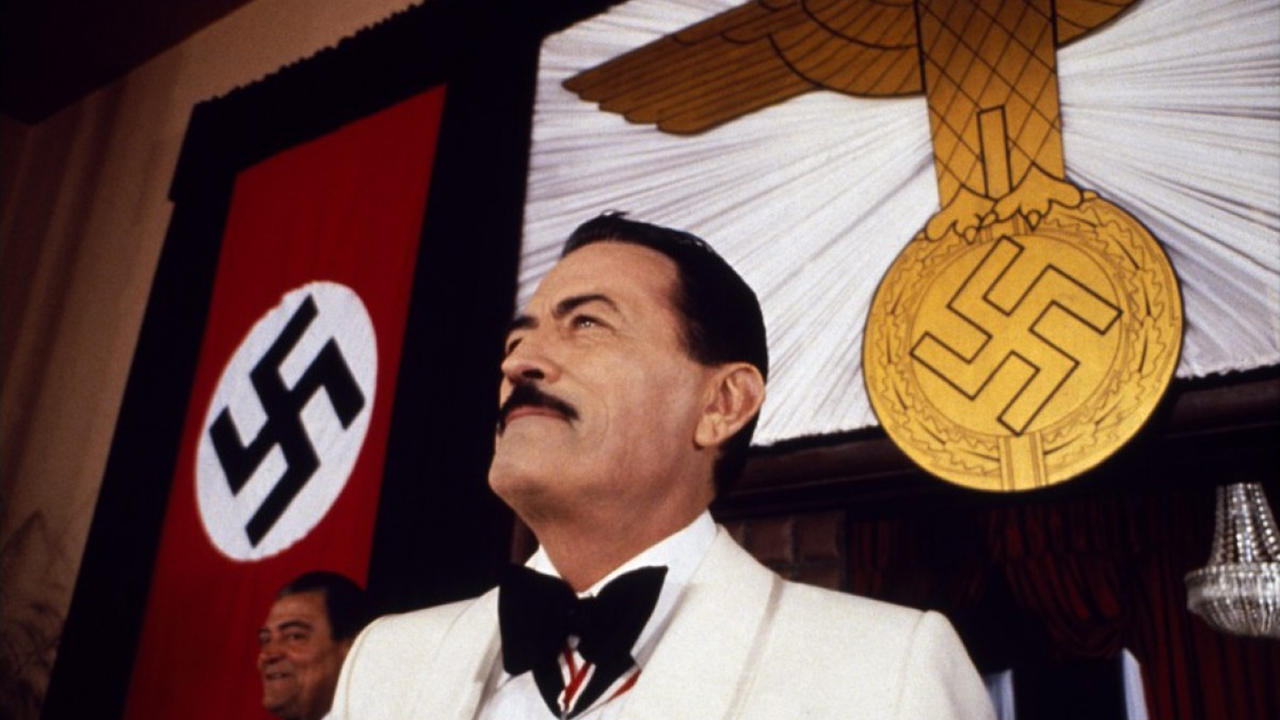 Neo-Nazis plan to rebuild a German master race by cloning Adolf Hitler. In a lot of ways, Ira Levin was the Dan Brown of the '60s and '70s. That is, he was a novelist with a bunch of very good, clever ideas ("What if a sweet young innocent was unwittingly impregnated by Satan?" "What if all the seemingly perfect wives in a seemingly perfect suburban community were really robots?"). He was a master of the outrageous storyline and the twist ending.


The Boys from Brazil is a 1978 British-American science fiction thriller film directed by Franklin J. Schaffner. It stars Gregory Peck and Laurence Olivier, and features James Mason, Lilli Palmer, Uta Hagen, Anne Meara, Denholm Elliott, and Steve Guttenberg in supporting roles. The film is based on the 1976 novel of the same title by Ira Levin, and was nominated for three Academy Awards.
PLOT

Young, well-intentioned Barry Kohler (Steve Guttenberg) stumbles upon a secret organization of Third Reich war criminals and Neo-Nazis holding clandestine meetings in Asunción, Paraguay and finds that Dr. Josef Mengele (Gregory Peck), the infamous Auschwitz doctor, is with them. He phones Ezra Lieberman (Laurence Olivier), an aging Nazi hunter living in Vienna, Austria, with this information. A highly skeptical Lieberman tries to brush Kohler's claims aside, telling him that it is well known that Mengele is living in Paraguay.

Having learned when and where the next meeting to include Mengele is scheduled to occur, Kohler records part of it using a hidden microphone but is discovered and killed while making another phone call to Lieberman. Before the phone is hung up with Lieberman on the other end, he hears the recorded voice of Mengele ordering a group of ex-Nazis to kill 94 men in nine different countries throughout North America and Europe.

Lieberman follows Kohler's leads and begins traveling to investigate the suspicious deaths of a number of aging male civil servants. He meets several of their widows and is amazed to find that their adopted sons — all with black hair and blue eyes — share an uncanny resemblance. It is also made clear that, at the time of their deaths, all the victims were aged around 65 and had cold, domineering, and abusive attitudes toward their adopted sons, while their wives were around 42 and doted on the sons.

Lieberman gains insight from Frieda Maloney (Uta Hagen), an incarcerated former Nazi concentration-camp guard who worked with the adoption agency, before realising during a meeting with Professor Bruckner (Bruno Ganz), an expert on cloning, the terrible truth behind the Nazi plan. During the 1960s, Mengele had secluded several surrogate mothers in a Brazilian clinic and implanted them with zygotes that carried a sample of Adolf Hitler's DNA, preserved since the Second World War. Ninety-four clones of Hitler had then been born and sent to different parts of the world for adoption. In the hopes that one or more of the boys will turn out like the original Hitler, Mengele has attempted to recreate Hitler's youth: he has arranged for all of them to be placed with foster parents similar to Hitler's own, and has ordered the assassination of the fathers when they reach the same age at which Hitler's own died.

As Lieberman uncovers more of the plot, Mengele's superiors become more unnerved. After Mengele happens to meet (and then attacks) one of the agents he thought was in Europe implementing his scheme, Mengele's principal contact, Eduard Seibert (James Mason), informs him that the scheme has been aborted to prevent Lieberman from exposing it to the authorities. Mengele storms out, pledging that the operation will continue.

Seibert and his men destroy Mengele's jungle estate after killing his guards and servants. Mengele, however, has left, intent on trying to continue his plan. He travels to rural Lancaster County, Pennsylvania, where one of the Hitler clones, Bobby Wheelock (Jeremy Black), lives on a farm with his parents. There he murders the boy's father (John Dehner), a Doberman pinscher breeder, and waits for Lieberman, who is on his way to the farm to warn Mr. Wheelock of Mengele's intention to kill him.

The instant Lieberman arrives and sees Mengele, he attacks the doctor in a fury. Mengele gains the upper hand and shoots Lieberman, wounding him. He taunts Lieberman by explaining his plan to return Hitler to the world and that he started the operation in Berghof in 1943. Then, with one desperate lunge, Lieberman opens the cupboard where the Dobermans are held and turns them loose. The dogs corner Mengele and attack him. Bobby arrives home from school and calls off the dogs and tries to find out what has happened.

The injured Mengele, having now encountered one of his clones for the first time, greets Bobby with obvious affection and tells him that Lieberman committed the murders. Bobby doubts his story, suspicious of Mengele because the dogs are trained to attack anyone who threatens his family. Mengele then reveals the boy's origins, but Bobby does not believe him. Lieberman tells Bobby that Mengele has killed his father and urges him to notify the police. Bobby checks the house and finds his father dead in the basement. He rushes back upstairs and sets the vicious dogs on Mengele once again, coldly watching as they brutally kill the Nazi doctor. Bobby then helps Lieberman, but only after Lieberman promises not to tell the police about the incident.

Later, while recovering from his injuries in a hospital, Lieberman is encouraged by David Bennett (John Rubinstein), an American Nazi-hunter, to expose Mengele's scheme to the world. He asks Lieberman to hand over the list (which Lieberman had taken from Mengele's body while Bobby was calling for an ambulance) identifying the names and whereabouts of the other boys from around the world, so that they can be systematically killed before growing up to become bloody tyrants. Lieberman objects on the grounds that the clones are innocent children, who may yet grow up to be harmless, and burns the list before anyone can read it.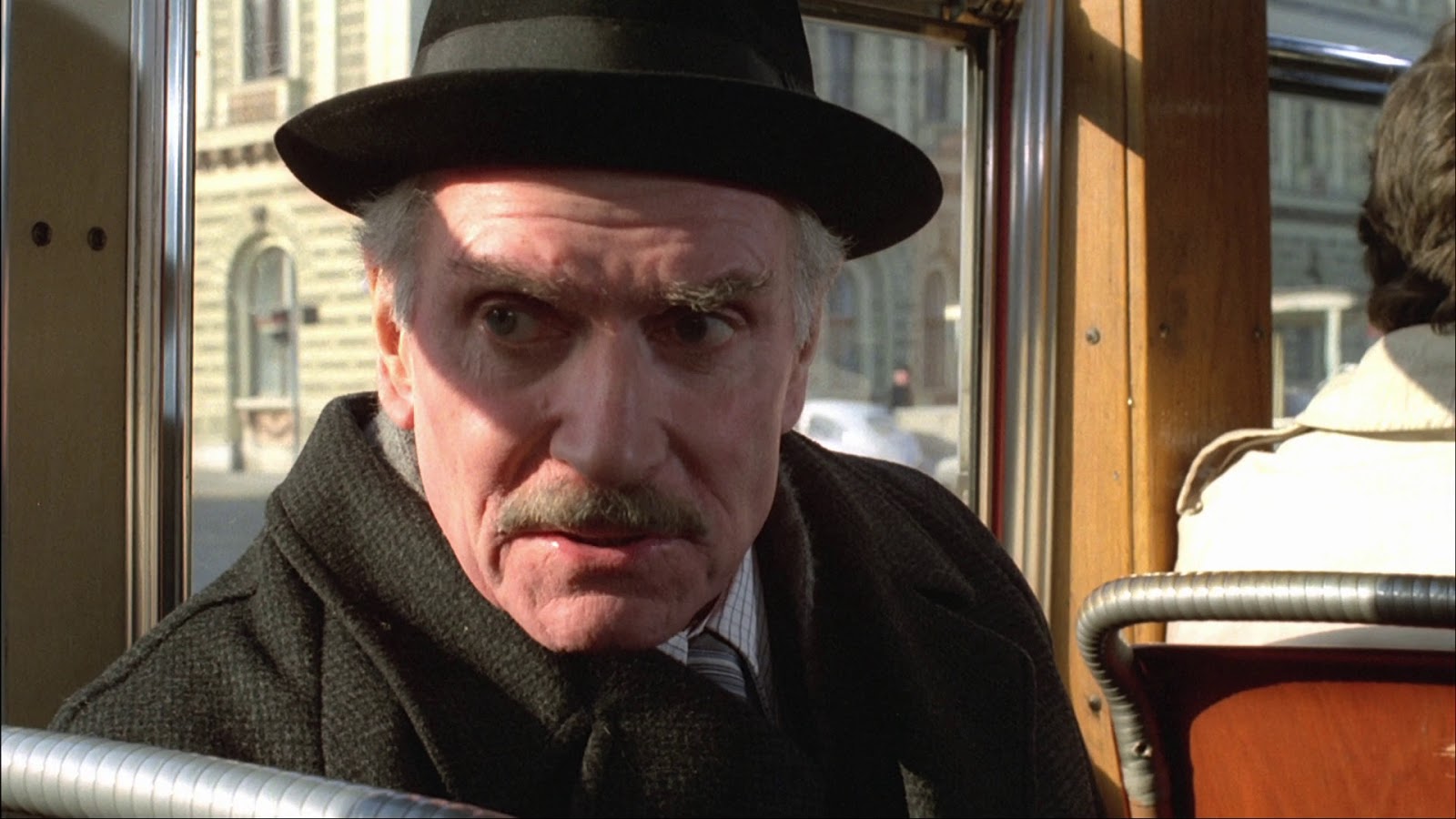 CAST

Gregory Peck as Dr. Josef Mengele
Laurence Olivier as Ezra Lieberman
James Mason as Col. Eduard Seibert
Lilli Palmer as Esther Lieberman
Uta Hagen as Frieda Maloney
Steve Guttenberg as Barry Kohler
Denholm Elliott as Sidney Beynon
Rosemary Harris as Frau Doring
John Dehner as Henry Wheelock
John Rubinstein as David Bennett
Anne Meara as Mrs Curry
Jeremy Black as Jack Curry, Jr. / Simon Harrington / Erich Doring / Bobby Wheelock
Bruno Ganz as Dr. Bruckner
Walter Gotell as Capt. Gerhardt Mundt
David Hurst as Strasser
Wolfgang Preiss as Lofquist
Michael Gough as Mr Harrington
Joachim Hansen as Fassler
Sky du Mont as Friedrich Hessen
Carl Duering as Maj. Ludwig Trausteiner
Linda Hayden as Nancy
Richard Marner as Emil Doring
Georg Marischka as Gunther
Günter Meisner as Farnbach
Prunella Scales as Mrs Harrington
Raúl Faustino Saldanha as Ismael
Wolf Kahler as Otto Schwimmer
PRODUCTION DEVELOPMENT & FILMING

The book came out in 1976 and was a best seller. In August 1976 it was announced the Producers Group (Robert Fryer, Martin Richards, Mary Lee Johnson and James Cresson) had optioned the film rights to the novel and would make the movie in association with Lew Grade. Fyer had just made Voyage of the Damned for Grade. According to producer Martin Richards, Robert Mulligan was originally offered to direct the film.

In May 1977, it was announced Laurence Olivier would star. By this stage Franklin Schaffner was attached to direct. Gregory Peck joined the film in July. Olivier had recently been ill and was taking as many well paying movie jobs as he could get in order to provide for his wife and children after his death. Peck agreed to portray Mengele only because he had wanted to work with Olivier. Mason initially expressed interest in playing either Mengele or Lieberman. Lilli Palmer also accepted a small role just to work with Olivier. To prepare for the roles of the European clones, Jeremy Black was sent to a speech studio in New York City by 20th Century Fox to learn how to speak with both an English and a German accent.

"The emphasis of the film is not on Nazis," said producer Fryer. "It is really about cloning, a logical extension of existing facts. And it's about the hatred that two men have for each other."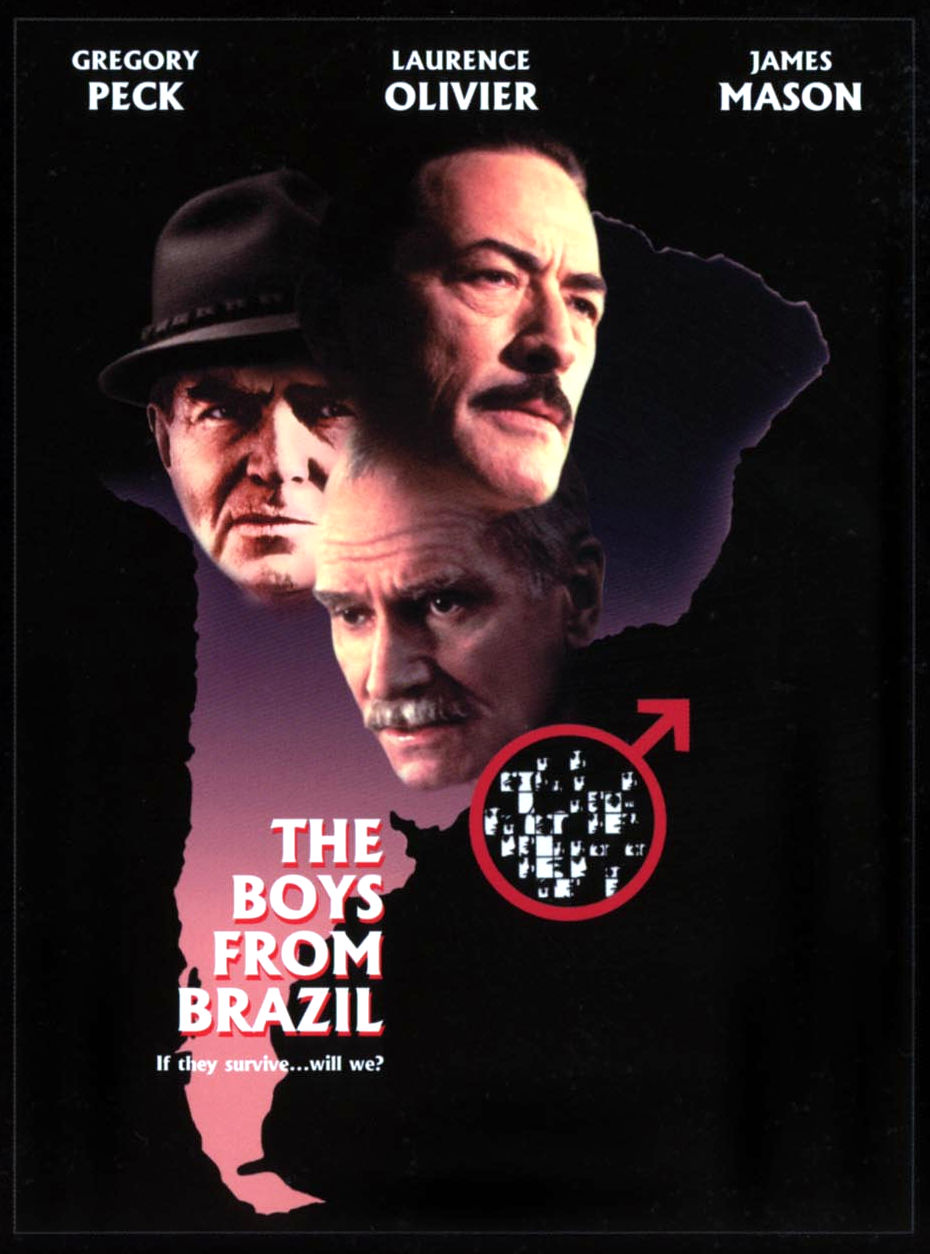 Filming

Although the bulk of the film is set in South America, Fryer says actually filming in that continent was "logistically impossible" so the decision was made to shoot it in Lisbon, Portugal. Filming started in Portugal in October 1977, with additional filming in London, Vienna, the Kölnbrein Dam in Austria, and Lancaster, Pennsylvania. The scenes that were set in Massachusetts were shot in London.

The altercation between Lieberman and Mengele took about three or four days to film due to Olivier's ailing health at the time. Peck recalled that he and Olivier "were lying around on the floor" laughing at the absurdity of having to film such a fight scene at their advanced ages.

Extended ending

A brief end segment with Bobby Wheelock in a darkroom was restored to some versions in later years. In this alternative ending, after Lieberman burns the list in his hospital bed, the scene transitions to Bobby in a darkroom developing photographs of Lieberman and Mengele, with a piercing glare coming from his steely-blue eyes as he focuses on Mengele's jaguar claw bracelet before fading to the end credits.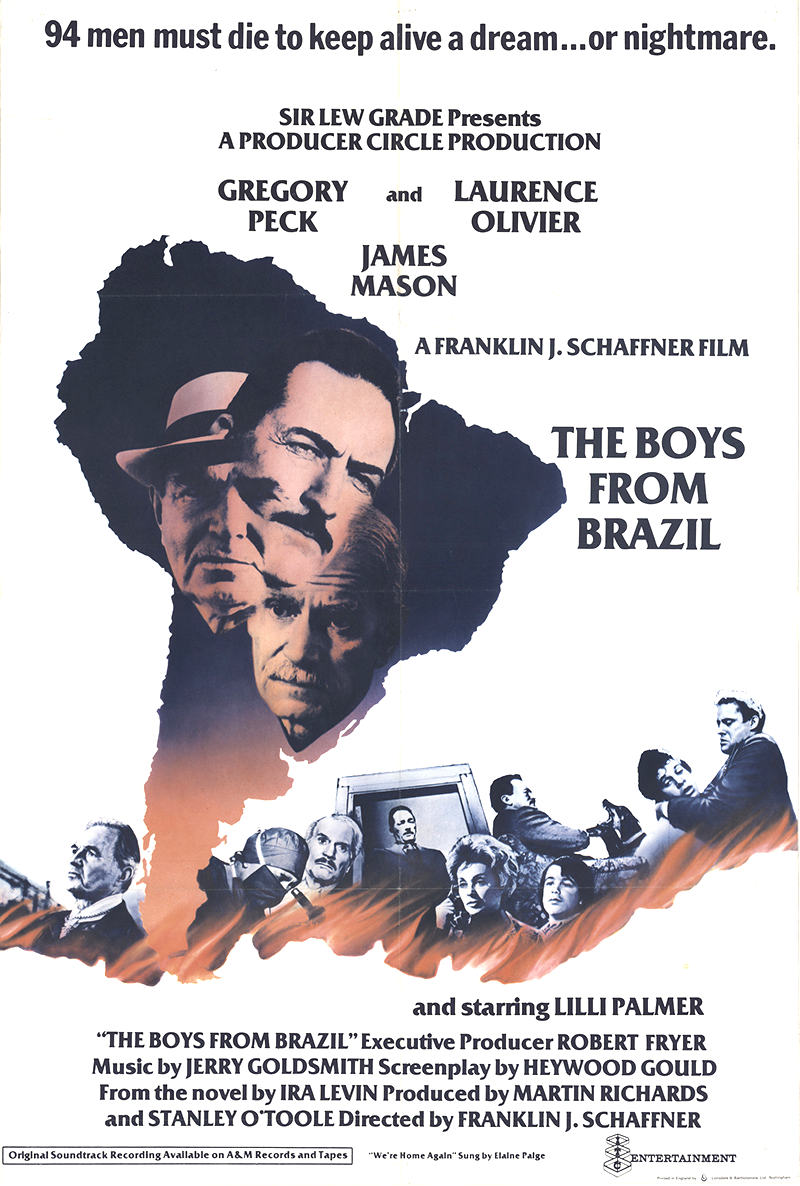 REFERENCE
https://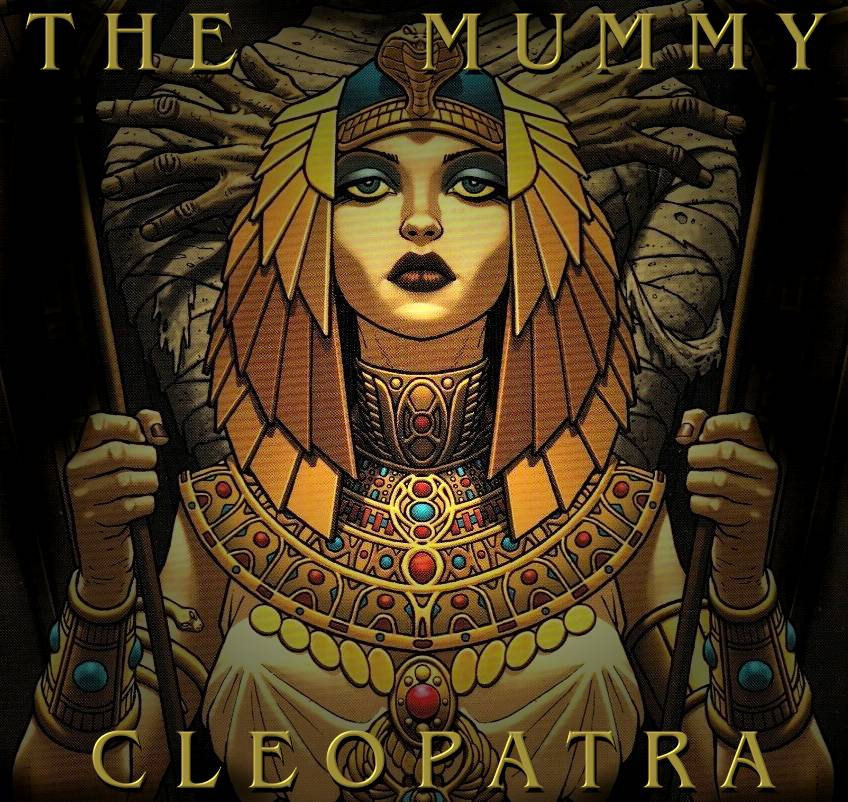 CLEOPATRA THE MUMMY - UNDER DEVELOPMENT 2022
'Cleopatra - The Mummy' is the proposed sequel to 'Kulo-Luna.' Kulo-Luna, the first script of the John Storm franchise (for which a draft is available to studios and actor's agents). The John Storm franchise is a series of ocean awareness adventures, featuring the incredible solar powered trimaran: Elizabeth Swann. Cleopatra The Mummy, could be the pilot, with Kulo-Luna, or Treasure Island the prequel or sequel. The order of production could be to suit identified gaps in entertainment, in any particular year. Equally, the trilogy, could be adapted for network television.